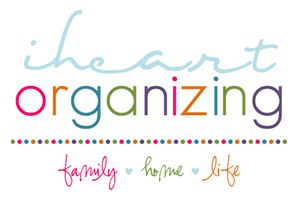 I have totally fallen in love with the blog IHeartOrganizing!  I was looking through her Facebook page and found references to a post on Lego organization! I knew immediately that I needed to investigate. The holidays are here and so many nannies and families have 1000s of Legos residing in every nook and cranny of the house.  I set out on the mission to find the post and then I ran across an incredible idea for all the DVDS that haven taken up residence in every shelf of your entertainment center.   I just keep scrolling and scrolling through the bright colors and ideas that Jen has on her blog.  Seriously grab a cup of tea and a snack and you are set for a good hour or more.
I am going to share some awesome links with you today that will hopefully help you with the pending holiday gift invasion in your homes.
and then come to this blog post where her readers link up all of their awesome Lego solutions too!
Now that you have your Lego storage solutions you know see all the DVDs that are taking over the living room area.  One of Jen's readers, Ashlie shared an awesome solution to gather all of your DVD's and put them together in one space!  I am totally doing this after the holidays to help with my simplifying and organizing of my space!
This is so incredible you just have to go and look right now!  Because you will be shocked about how she organizes her DVDs and takes back almost an entire bookshelf!
How many DVDs do you think are in this box? You will be shocked to learn I think!  This is the answer to all of the kids DVDs and all the DVDs you have as well!
One person shared in their comment  a way to reuse/recycle those empty DVD boxes Anyone looking to get rid of cases…contact your local school district and I bet they will jump at having them. We use them in our music departments, the football coaches use them to store film, the AV department uses them for DVD copies of school events….