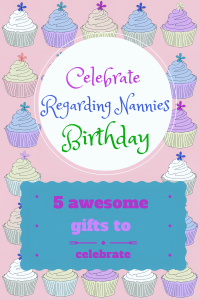 As you know we have been celebrating 5 years of Regarding Nannies.   Table Talk Thursday was an avenue for us to get together with others and ask some deeper questions or share thoughts with others.  We wanted to "virtually" have a cup of coffee with others.
In honor of all of the Table Talk Thursday chats, articles and discussions we would love to have a cup of "coffee" with one of our readers.
We have a few goodies we want to share with our readers in honor of our 5th year as a blog for the nanny industry.  Each of the 5 gifts represents a little something about each day of our blog week.  We hope you enjoy the goodies and are with us for the next 5 years.
Birthday Goodies to Win:
Monday Moxie:  Nanny Webinar series (6 total)  from Marcia Hall/Strong Roots Family Coaching valued at $60
Tuesday Tips:  a $10 gift card to SmartyPig, so you can start saving for something fun.
Creative Nanny Wednesday: an Amazon gift card valued at $5
Table Talk Thursday:  a Starbucks gift card valued at $5
Financial Friday:   an INA individual membership valued at $45
How to win:
Post a comment on any blog post from Monday July 7 through Friday July 11.
Each comment you post will count as an entry.
 Comments need to be more than saying "Great job, I like this post  etc"  Some examples on what to say would be something about what you get out of Regarding Nannies or the daily posts, a favorite post, series or something that has really made life easier for you as a professional or in your personal life.  Why would you would love to win one of our Birthday goodies and why that one gift appeals to you.
Like us on our Facebook page and comment below that you are following us on Facebook.
 All comments must be made by Sunday July 13 at 3pm EST.   Come back on Monday July 14, to see who won a prize for each day of our birthday week.
If you are the winner, you must contact us at the email address provided in the email by Wednesday July 16 at 3pm.  Otherwise, you forfeit your prize.
Any questions please ask us.
Thank you for being great supporters of us and everyone who has contributed to Regarding Nannies' success over the past 5 years!