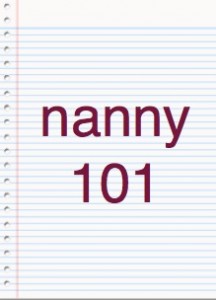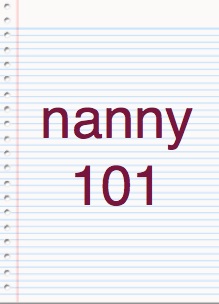 Welcome back to Nanny 101, a series created to share the basics for the new nanny or a refresher course for the seasoned nanny! Let this be a starting point for your personal study!
"…Predictable routines are satisfying like milk and sunshine."
Nanny 101: Routines
Routine… the word does not give off the sense of fun, I know. Adults tend to to feel trapped with the thought of too much routine, but what we do not realize is that we actually do live in pre-planned activity each day. Most drive the same path to work without even thinking. We sleep and eat in the same locations in our home. A routine is any activity that we do automatically on a daily basis. So by definition, we may not even realize that we are living in routine.  Children should be given instruction to live in routines and eventually these disciplines will be like second nature to them, just as it is for us.
Dr. Harvey Karp states that "Sometimes parents worry about becoming slaves to routines. Doing the same thing over and over many be boring to us, but to toddlers, predictable routines are satisfying as milk and sunshine."  Children will thrive with schedules that are easy to follow. Parents will feel at peace knowing the basic elements of their children's day. Nannies will be able to accomplish what needs to be done daily, meeting the physical and developmental needs of children in a conducive atmosphere. "Establishing a solid routine can help assure that everyone gets what they need every day. From getting everyone out of the house to getting everyone bathed, having a system in place can make things easier." – A Mom's Ultimate Book of Lists by Michelle Larowe
Lesson 1: Routines Provide Understanding
I once heard a popular multiples mom state that "each day is vastly different yet shockingly the same". That has resonated with me in my position. Each day is a new adventure that cannot always be planned! Children have a desire to explore and learn about the world around them and it is so fun to see what that experience will be that day. As nannies our job to set up the framework of a child's day which includes their basic needs are provided for, while allowing them the flexibility to accomplish all their "jobs". A routine can bring them back from their adventure to what is familiar and predictable. Children will have a peace of mind and security when they can understand their life, even at a young age.
Example:
Each day 9 year old Kent and his sister, 11 year old Lauren come home from school on the bus. Nanny Jamie is at their home waiting their arrival. She is responsible to get dinner ready, oversee homework completed, and preparing for the next school day all before the parents arrive home at 6:00 p.m. Jamie tries to get the kids busy right aways as they walk in the door, but it is always a fight to accomplish everything in the time frame. Kent and Lauren go right to the TV, and argue about starting homework. Nanny Jamie struggles with pushing the children too hard after a long day at school. She, herself, ends up taking feeling the brunt of the kids' chores, and leaves the house stressed at the end of each work day.
Nanny Jamie should feel confident that she can create a routine for a successful afternoon. First off, she should lay out a plan that she feels would fit the children. She could then take this to the parents and get their backing to implement. In this case, since the children are older, she can sit down and discuss some options and give choices to the children in the routine. A great solution, maybe to give the kids a 1 hour break between school and homework. During this time they could play outside, and eat a snack. TV could be the reward when homework is completed and chores are down. Maybe each child has 5 chores for the week and they get to choose which chore they do each day, until they are all completed for the week.  Nanny Jamie is not asking the children to do something the parents are not in agreement with, because the will carry out the "no TV until finished" rule. Over time, the children will naturally flow with the routine that has been set up.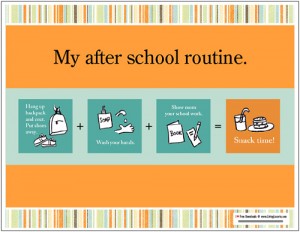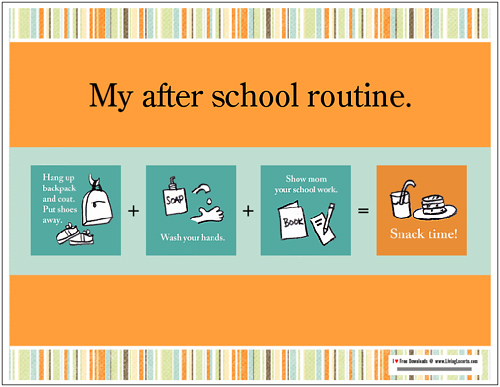 Lesson 2: Routines Allow Children to Keep Time

Young children cannot tell time on a clock, a luxury that we forget we have. They look to the make-up of their day to tell them what is next. When the routine is repeated, the child will come to know what is coming next. While much play can fill a child's day, it is important to have "rest stops" of consistency for them.  They will then realize, "after I wake up, I get dressed" and "after I take a bath, I will have a snack, read books, and go to bed". "Knowing what to expect from relationships and activities help children become more confident" says Dr. Gorski, assistant professor of pediatrics at Harvard Medical School.
According to Newborn Care Specialist and parent educator Cortney Gibson, "Babies quickly learn what to expect when they are given the same series of events everyday . They know for instance that when a bib is fastened around their necks, a bottle is coming soon. They relax and let out a little sigh when being swaddled because they look forward to their naps. They get squirmy and start to grin after a feeding because they will recognize it's time to play after they eat."
Example:
About 1:00 p.m., 3 year old Jacob is playing in the living room. Nanny Harriet enters and tells him,  "OK, Jacob, you have 5 more minutes of playing with your trains and then it will be time to clean up." While he cannot yet tell time, when his nanny returns in the time frame she stated, he is learning. She explains, "Jacob, it's clean up time, would you like to put the books on the shelf or pick up the trains first?" and she begins to sing the daily "clean up song". For five minutes they clean up and sing together. Then she prompts him, "meet me on the couch for story time after you go potty". Jacob runs to the potty knowing that his favorite books will soon be read. Following this Jacob will ease into his "quiet time" on the couch where he may or may not fall asleep while watching an educational show.
This example shows that Jacob has been guided into a routine to of responsibility and calming before his quiet time. Each day he is led through the same pattern, and follows it without a challenge. He understands his afternoon schedule and enjoys the tasks that lead to special moments. He takes responsibility to do his jobs – cleaning up and going potty – because just like everyday, story time will follow. As his nanny uses the same cues, he will feel secure what is to follow each day…just as it did the day before.
Lesson 3:  Routines Should be Age Appropriate
If you are looking for a time to start a routine, the best time is now! Whether the kids in your care are young babies or much older, a routine once understood by the child will create a foundation for your day with them.
Gibson recommends "the best time to start implementing a routine is from the very start. All babies can benefit from a predictable routine. Having a routine doesn't mean you have to feed on a strict schedule or withhold food or attention from a crying baby. A routine can be as simple as a series of events in the same order (bath, book, bed) or as complex as a set of feedings, play time, naps and how you respond to the babies cues."
Example:
Nine month old triplets (Erin, Owen, and Lauren) wake up ready to start the day! Screams and squeals come from the bedroom as nanny Tina enters and says good morning. One by one she "frees" each baby, whoever seems the most impatient will  go first. Time to warm bottles, pick out clothes to dress them  and feed them. Being only one nanny, she must decide each day, which baby will get the first attention. Today she chooses Lauren, changes her diaper and begins to feed her. Owen and Erin begin to cry for their meals, because they have been conditioned that "the baby who cries will get fed". Tina's heart strings pull and and often feels guilty leaving the others in waiting, but what else can she do? The babies have been conditioned that the baby who cries will get the attention.
A nanny should seek a solution that will meet the needs of the children in her care. In this case, creating a morning routine, will provide comfort and peace to all three babies. The mood will change affecting babies and nanny! A few things worked for our family team. This is just one of solution of many that may work. First, we got all that we could prepared before getting the babies out of their cribs. Second, we kept the same order fro each feeding of the triplets. Using these solutions for this example it may look like this:
Nanny Tina warms bottles and lays out clothes and diapers before she goes to get the babies. She brings down each baby one at a time and gives them toys to look at and explore. She starts with Owen each day – changes his diaper, dresses him, feeds and burps him. When finished, she follows with Erin, then Lauren. As time goes on, the babies begin to understand the timing of their feeding. Each morning nanny Tina will give the same cues as she changes, dresses, feeds, and burps. As each baby is changed and returns to the living room, they know their bottle is to follow. Nanny Tina continues this pattern after morning and afternoon naps, always changing a diaper for first child, followed by a bottle, then repeating for the others.
There are many resources online and in books as to what the appropriate schedules are for children. Do some research and put together a plan that fits the personality of your family. Communicate plans with parents and discuss what they feel would be beneficial. Ask questions and come to an agreement on what you both can carry out for the consistency of the children.
As children grow older it is likely their routines will become more independent. The use of charts, pictures, and lists can add fun and function to the mix.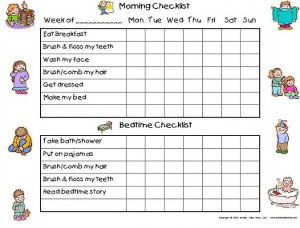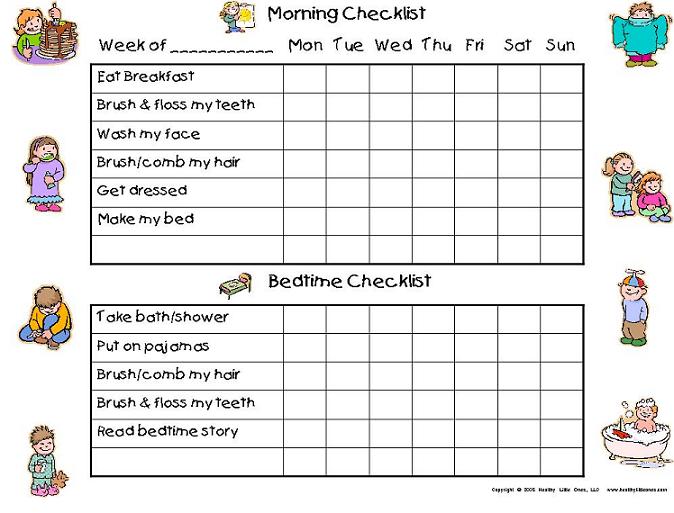 Areas you may develop routines for, depending on their age:
Mornings: dress, breakfast, brushing teeth, ready for school
Afternoon: lunch, clean-up, rest
Evening: homework, dinner, chores, play, bath, bed
Here are some links to help you develop and keep routines:
Chart Jungle – Free Prinatbles
Getting Ready for School Chart
Refrigerator Magnet Routine Chart
Allow yourself to update and change routines as needed. Children will grown out of some routines, or do so well that they are able to add more responsibility. Naps will go away, homework will be added. Come up with methods that live out the goals of the family and develop confidence in the child.
A few more tips…
Even at a young age, vocalize what you are doing as you are doing it

Encourage a consistent time and method for departure of parents. A cue of "Mommy is going to work, I love you, bye-bye" can trigger what is coming next for a child.

Little rituals make a routine more fun. Use songs, sayings and tone of voice at same moments each day.

Allow enough time and be realistic

Don't rush through meals

Create a homework spot for each child

Work on your own time management
Prepare as much as you can the day before (nanny and child)
Just because it seems right, it may be a wrong fit. While some children are calmed by a warm bath, others me feel reinvigorated.
Try giving school age children a break between school and homework
Teach children to help with you chores at a young age

Homework Assignment:
1. What time of your day seems to be the most difficult – morning, afternoon or evening? How could a consistent routine help improve that time frame?
2. What seems to be your most successful time of your day? How can you add another layer and produce a new skill or responsibility for the child?
3. In what area have you been too strict or too lax? How do you intend to change that?