Welcome back to our new series, "Meet Nanny"! Through this series, we will get to know some amazing nannies from all over the country. While each of us have a different journey we share some similar passions. We hope that these stories will encourage you! You are part of a large community of wonderful professionals!
Meet Nanny Becky

1. What is your daily nanny life like?

As over 20 years as a nanny with the same family I have had an every changing "daily routine" and it's run the gammit – newborn, infant, toddler, preschool, gradeschool, home schooling, middle school, high school, college and graduate school. Ok, I know what your are thinking . . . it must come to an end sometime, you can't be a nanny to a 23 year old med student . . . I can tell you they keep coming back to you for advice, guidance and a special connection. I've transported children thousands of miles to school, home, activities, lessons, camp, events and their friends homes – it's a good thing I love to drive. At one point I thought they would stop introducing me as their nanny, but it never happened. I also expected that at some point in grade school they wouldn't come running with a big huggle and call my name out it that giddy voice they have, again it never happened. Oh by the way, a huggle is a cross between a hug and a cuddle – very nice, I recommend them. I think the most amazing thing happened a few years ago when I attended the final campfire at a camp they all go to each summer and now are on the staff. The oldest who was probably 20 or so was introducing me to another staff member by saying, "This is Becky, my nanny – she raised me." All this with her dad standing right next to me . . . and nodding his head because he agreed. I've got a million of these little moments. Being a nanny is SO special!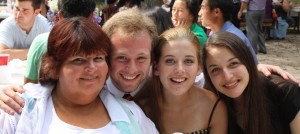 2. What are 3 unique characteristics that about you that you strive to live for the children in your care?
To be Kind and Trustworthy.  EVERYONE needs plenty of Loving (which also includes not jumping to conclusions about others).  There is always room for FUN!
3. What is the most rewarding thing about your career as a nanny?
Making a difference in the lives of children who grow into amazing adults!
4. What is one thing that you wish you would have known your first day as a nanny?
How deeply I'd love this family. It's simply incredible!
5. What is something that others maybe surprised to know about you?
Some of you know this but it is a little unusual . . . I can whistle like a bird, especially a baby bird, through my teeth. Freaks out little kids and a great party trick!
Thanks so much to Becky Kavanagh of Eden Prairie, Minnesota. Becky has received awards for her exemplary work including the 1998 Parents Magazine Childcare Award,  2006 INA Nanny of the Year Award , and the INA Service Award for 20 years!  She is also a Placement Counselor for Nannies of the Heartland, and enjoys writing their blog. She is has served on the INA Board over the years (about 9 in total),  filling many roles including Vice President, President and for the last four years, Secretary. A true veteran in the industry!