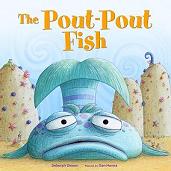 Earlier this summer we did a Tuesday Tips focused on summer reading and one of the books we featured was called the  "The Barefooted Bad Tempered Baby Brigade" by Deborah Diesen. We were thrilled when Deborah Diesen took the time to post a comment on our blog and even more excited when she agreed to do an interview with us about how she became involved with writing children's books.
Don't forget to check out Deborah's website where she has more information about her books and some fun games for children. Also: Check out  her blog Jumping the Candlestick.
Deborah has just released another book and has graciously offered to do a give away to our Regarding Nannies readers.
If you have ever considered writing books for children, Deborah has some great words of wisdom for you. She also shares with us the inside story of how she was inspired to write her books.
How long have you been writing children's books?
Writing has been a lifelong interest for me, but I didn't become interested in writing children's books until I became a parent.  My kids dove into the love of books at a very early age, so life at our house was almost like an intensive seminar on children's literature seminar for me.  Each week we'd bring home dozens of picture books from the library, all of which I read aloud, and the favorites of which I read aloud 2,649,328 times each.  Without even realizing it, I learned about plot arc, pacing, story length, character development, word choice, meter, and rhyme.  Somewhere in the midst of all that came the thought, "I'd like to write a children's book."
How many have you written?
I have three books in print (The Pout-Pout Fish; The Barefooted, Bad-Tempered Baby Brigade; and, new just last week, The Pout-Pout Fish In The Big-Big Dark).  I also have another book on the way, about a disastrous school picture day.  I hope there will also be other books (I've got literally a hundred picture book manuscripts in my files!), but I'm so grateful to have been published at all that I'm just enjoying the experience as long as it lasts.
What was your inspiration for your first book?
The Pout-Pout Fish was inspired by a real life situation with my elder son.  He was maybe three or four years old at the time and in a bit of a mopey mood.  I started making an exaggerated pouty face, to try to get a smile out of him.  After a few attempts, it worked, and then we got into both making big pouty faces at each other and giggling about it.  I said to him, "We look like fish.  Like pout-pout fish!"  That moment was the inspiration, and within a few weeks I had a complete first draft.  Then, after six years of revising, submitting, and waiting patiently (er, mostly patiently…), a book was born!
Did your writing start out as just a hobby or did you set out with a goal of writing children's books?
Writing is one of those things that I've done with various degrees of seriousness throughout my life, but for the most part even my more serious writing periods were always hobbylike efforts.  It wasn't until I got involved in children's literature that I began to do some of the important additional steps that are part of a goal-oriented writer's life.  For me, these included finding a writing group, attending writing conferences, doing research about publishers and editors, and developing a thick skin for rejection letters!  By themselves, these four steps are no guarantee of publication.  But without them, getting published is likely to remain just a dream.
What was the best advice you received along the way?
When I first started taking my writing for children seriously, I attended an evening class that was an introduction to writing for kids.  The instructor encouraged us to consider joining SCBWI (The Society of Children's Book Writers and Illustrators) and also to try to find a writing group.  I did both things immediately, and have benefited greatly from both.  SCBWI-Michigan is a very active chapter of the national SCBWI, and I've learned a lot at SCBWI-Michigan conferences.  And my writing group – they're amazing!  Talented writers, each and every one of them, and also very fine friends.  Their careful critiques and their constant encouragement have made all the difference to me as a writer.
What is your advice to aspiring writers?
Writing, while theoretically a labor of love for those called to it, is often just plain hard work.  And trying to get published can be a very long and extremely discouraging process.  The best advice in the face of all that?  Write anyway!  Writing is good for us as individuals, for it helps us tap into unique and unexplored parts of our selves.  And sharing stories is part of what makes us human.  So…  Start where you are, and write what most interests you.  It may take you a while to hit your stride and to find what it is you're meant to be writing — and just when you get it all figured out, it'll change.  But write anyway!  And then:  Keep on writing.
Which of your books is your favorite and why?
All three are my favorites!  But each in a different way.  The Pout-Pout Fish has a special place in my heart for being my first book.  And it has been such fun to share it at story times — what a joy to see Mr. Fish and his friends come alive for kids!  I've also got a major soft spot for the grouchy babies in The Barefooted, Bad-Tempered Baby Brigade. The quirky sentimentality in that book reflects pretty accurately my own take on parenthood.  And then the newest addition to my book family, The Pout-Pout Fish In The Big-Big Dark, is special to me as a story of the amazing power of friendship to help us all face our fears.
Tell us a little bit about your book that was just released.
In The Pout-Pout Fish In The Big-Big Dark, Mr. Fish promises Ms. Clam that he'll help her find her lost pearl.  But his quest takes him deeper and deeper in the ocean, and he's scared of the dark!  His recurring refrain: "I'm fast as a sailfish; I'm strong as a shark; I'm smart as a dolphin…  But I'm scared of the dark!"  Lucky for Mr. Fish, his friend Miss Shimmer is there to help him on his journey, and in the end, he — whoops!  I don't want to give away the ending (but it's a happy one….  🙂
Thank you for taking the time to do this.
Truly my pleasure!  Thank you for having me on your blog!
Not only did Deborah take the time to answer our questions but she is giving away 3 of her books on our blog.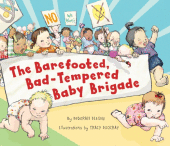 You can win a copy of all 3 of Deborah's books
The Barefoot Bad Tempered Baby Brigade
and her newest book that was just released:
The Pout Pout Fish in the Big Big Dark
Giveaway Details:
Deadline is 4pm EST Thursday Sept. 16
If you would like to enter to win you need to do the following
Leave a

required

comment here on this Regarding Nannies BLOG post (Facebook and Twitter don't count)   about what book you would like and why.
Don't forget that you should make sure your email address is included in the comment form under your name so that you can be contacted if you are the winner!   Winner has 3 days to claim their winnings!

You can earn up to 4 extra entries by doing the following:
1~
You can earn 1 extra  entry for posting the give away on your Facebook page and tagging Regarding Nannies so that we can see it.Example: (@Regarding Nannies: Enter to win Deborah Diesens book on Regarding Nannies Table Talk Thursday)
You must TAG us so we can count it.
2~Earn 1 extra entry  for sending out email about the give away to people and you must also copy it to Regardingnannies(at)gmail(dot)com
3~ Earn 1 extra entry for posting on your Twitter page (You must also tag @bloggingnannies for this to count-our name on Twitter)

4~Earn 1 extra entry for reposting the article/giveaway on your nanny group/agency/or personal blog. (you must repost it here with a link for it count)
The recipient of the books will be announced on September 17 2010.