I thought about calling this article "What Not To Wear" as it is much more attention seeking and dramatic, however, when thinking about my audience (my nanny friends who are pretty practical and likely no to crazily dressed), I decided to skip the play on the fashion show that holds people hostage until they relinquish their awful clothes. Not that I haven't seen some nannies – or been the nanny – that needs a little change in the wardrobe department. Today's class is meant to give thought to what you wear, not because you must dress to impress, but because professionals should think about all aspects of their job, including how they present themselves.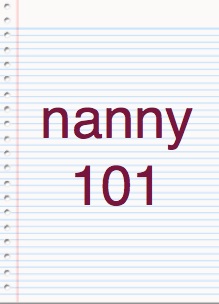 Nanny 101 – Nanny Wear
By: Greta Schraer
Lesson 1 : The Interview
The first interview is your one and only chance to make the right first impression. The saying is true about never getting that second chance.  It is important to think about what your clothes, hair, make-up may add or take away from your first impression.
Nanny Sonya carefully placed her resume in a folder with her impeccable references, left 15 minutes early just in case of traffic, and remembered to leave her cell phone in the car as to not take away from the time she would spend with Mr. and Mrs. Johnson. As Mrs. Johnson welcomed Sonya into the house she was greeted with a warm smile, but recognized the messy ponytail in Sonya's hair… "had she just woken up?" she thought. As they sat around the dining room table Mrs. Johnson couldn't get past the bright orange chipped finger nails as Sonya pointed to and explained her resume. Sonya had the right experience and the Johnson's  saw her eyes shine bright as she spoke with the children. But as Sonya left, Mrs. Johnson said to her husband… "She was wonderful, but will she teach our girls to care for their bodies and look respectable?"
While the small details such as hair and nails may seem petty, they communicate how you care for yourself and in turn how you will care for children. These details can speak volumes when you are under a microscope. No matter who you are interviewing with, you should put your best foot forward, so to speak.
In my personal opinion, a nice, clean casual outfit is best. For example: kacki pants or pressed jeans and a simple collared shirt. Stay away from tight fitting clothes or plunging neckline. Also, strong perfumes and heavy make-up may leave a lasting impression, and not the good kind.  You will want to dress comfortable enough to get on the floor in case you end up playing with kids. Hair can be up or down, but out of the eyes. Finger nails should be properly manicured.  I personally think that dressing up in a suit or heels is too much and doesn't fit the casual nature of the job. It is unlikely that in the privacy of their own home that parents play with their kids dressed to the nines.
Lesson 2: The Work Day
A nanny should dress appropriately for her daily workday.  This may look a little different for different nannies of different families, so it is important to take cues from the specific family in your care. It is also important that clothes do not hinder a nanny's day. She should be comfortable, able to move quickly and easily to her tasks at hand. Her clothing should in no way be provocative.  While a nanny of newborns my wear sweatpants and ever-changing t-shirts with her spit-up babies at home all day, a nanny taking older children the families' country club would embarrass herself and her charges in the same attire. While a nanny should not try to copy her employers dress, she can take cues on what is appropriate in certain situations – a day at the park, a doctor visit, a school function, or the swim club.
Mrs. Bonomini never misses her twin's doctor appointments, and today is no different. She arrives home to take the kids with Nanny Lucy to the pediatrician. She escapes upstairs to trade her suit for a pair of jeans, a cardigan, and her coach sneakers. Nanny Lucy notices her attire and grabs her own zip-up sweater to cover the pizza stain Ben left so nicely on her stomach. She quickly pulls her hair back into a neat ponytail and adds a little lip gloss. Nanny Lucy has learned it's important that she is presentable for these types of appointments.
Each day can look different for a nanny, but it is likely that most days our focus on is on the children far beyond ourselves – and the way we look. I admit there have been days with the triplets where I look like I have been hit by a bus (it was really just a head-butt to my nose). And though I am not saying that our priority should be something other than the children's well-being, remember, that the way we take care of ourselves is a direct reflection on the way that we see our job.
Lesson 3: The Special Occasion
There will likely be days where you as a nanny will join the family at some special event. I have friends that have worked for politicians and local stars, and I am sure that thinking about what to wear for a special occasion can be a little daunting.
Nanny Rosa was completely at a loss. She was about to take her first vacation with the Klein family and had no idea what to expect. She had never been out of the country and had no idea what to wear in St. Lucia. After hearing "private plane" and "formal affair" mentioned she was all the more nervous.  While hanging out with her good friend Tammy, she was encouraged to give her boss a call and simply ask what was expected. Mrs. Klein was happy to tell Rosa that she didn't need an evening gown, but a long sundress would be appropriate for dinners.  Mrs. Klein also mentioned that "what you a wore to the swim club" would be appropriate for the beach and pool.  Nanny Rosa was finally at ease.
If you find yourself in a similar situation, feel free to ask your employers what they think is appropriate for you to wear and what the children will be wearing. This will show that you respect the situation and want to do that right thing.
Homework Assignment:
1 – Think about what you wore to your last interview. How was it received? Looking back is there anything that you would change?
2 – What is your go-to outfit for work and why? How could you enhance your workday attire?
3 – What cues can you take from the family you work for to apply to the way you dress or dress the children?