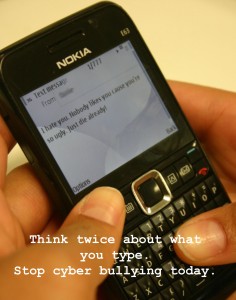 Do you have a child that you nanny for or parent that might be a victim of digital harassment or cyberbullying?  I came across this article from the Common Sense Media that shares some great tips for dealing with digital harassment.  Digital harassment/cyberbullying is not affecting kids it is also active in the college age group and other age groups.  The more information that we have to help educate the children and people in our lives the sooner we can put a stop to digital harassment and cyberbullying.
What Is Digital Harassment?

Digital harassment is when kids and teens use cell phones, social networks, and other communications devices to bully, threaten, and aggressively badger someone. While it's a form of cyberbullying, "digital harassment" is a bit different because it usually takes place between two people in a romantic relationship.

Certainly, lots of young people conduct healthy relationships and use their online and mobile lives to stay connected to each other. But not all relationships are balanced — especially with teens, whose emotional lives run at peak speeds.
to read the rest of the article please visit: