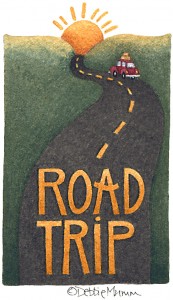 Over the years my kids have taken lots of road trips with their parents and I wanted to share with you some fun websites that I found helpful when creating activities for them to do in the car.
The first one is Puzzlemaker where you can create your own word search puzzle. Puzzlemaker also offers links for themes and activities related to your theme.
Over at A-Z Teacher Stuff you can actually download pre created themes like State Capitals, Days of the week , 50 States or Days of the Week. You can also create your own theme.
For example if your kids are going camping, you might want to choose words that are camping related like tent, campfire, marshmallows etc. You can choose as many words as you like, you can choose the direction that they will go and even the the font.
In addition to word searches, you can click on THEMES and it will give you ideas for all kinds of themes from sports to the Oregon Trail.
It just takes a few minutes, it's fun, it's easy and best of all it's free!
Here's one I created while I was writing this post!
(Graphic from Debbie Mumms Happy Traveler)