INA 2011 Conference Wrap-up
By: Greta Schraer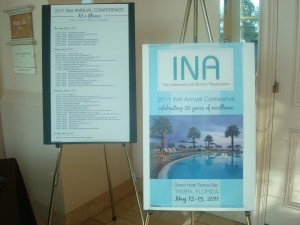 Whew! The Regarding Nannies team is returning home… each to our respective cities. We gathered in Tampa, Florida for the 26th Annual International Nanny Conference and what a great weekend we had!
We stayed at the Grand Hyatt overlooking the beautiful Tampa Bay. I woke up to the sun glistening on the water below me, admired the palm trees through the floor to ceiling windows of the conference center, enjoyed the breeze within the heat of the sun as I sat at the pool, and the lights of the city in the distance from the Armani's restaurant on the top floor. The views were simply magnificent. The hotel took great care of us offering us champagne as we arrived, and jumping to go above and beyond our needs and expectations. What a great experience for such a reasonable room rate!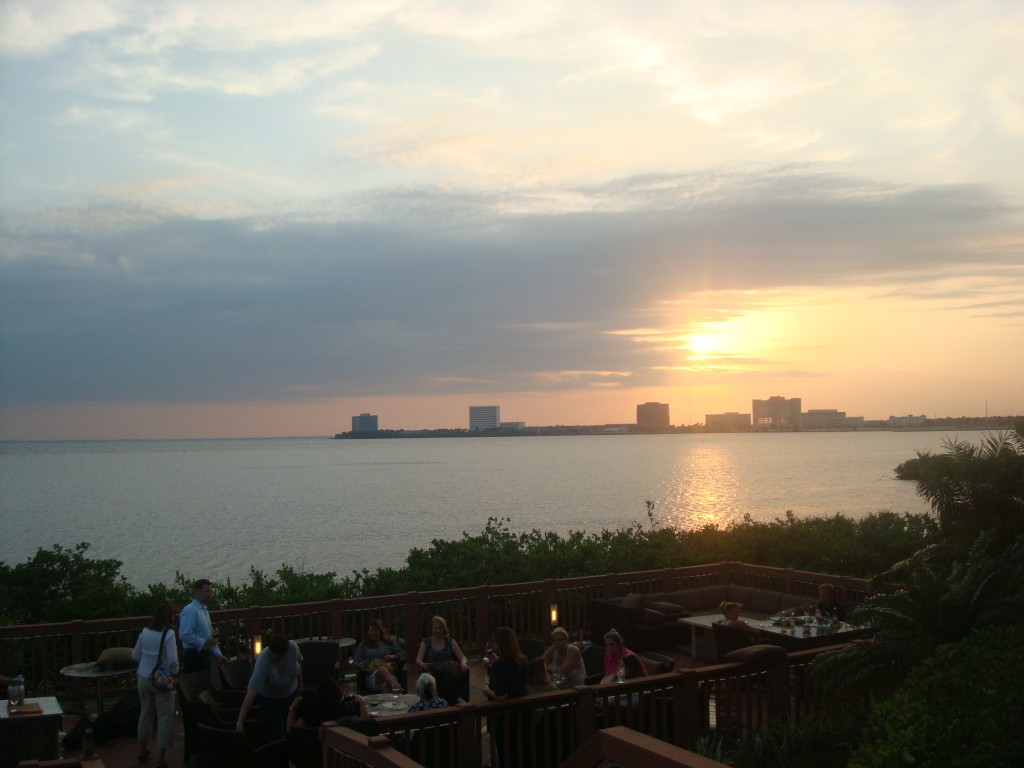 Conference featured a brand new track this year for Newborn Care Specialists! INA offered 4 tracks at a time giving the nanny, NCS, and agency the difficult choice to choose between great topics. (What a great problem, right?) All workshops are open, so I loved popping in the NCS workshops to pick-up some new ideas and skills. The nanny and agency tracks were as great as always with topics for the new or ready to go to the next level.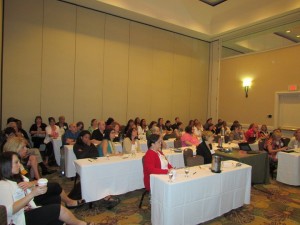 One of my favorite things about conference this year was meeting so many new attendees at orientation. There were 45 new people to conference! Many of them took advantage of the 50% off price as brand new members in the last year. 4 others received full scholarships! By the way, we loved meeting Nicole Barnes the recipient of the Regarding Nannies Scholarship. She very much enjoyed her first conference and will be filling you all in the near future.
While the conference schedule was packed, we made time for connecting with old friends and welcoming new. Networking with new members and socializing with good friends at the welcome reception, during network breaks, at group meals and during our free time. Friday was the Service Award Pin Breakfast where 13 people received their pins for the works of service – 5 to 25 years!  During lunch on Saturday, we had out annual board meeting where we talk business with all members that attend. This is where the profit/loss is shared, future conference location options are announced, and the new nominated board members are sworn in.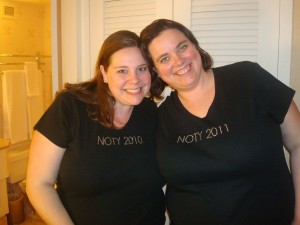 On Friday afternoon, I was honored to present the 2011 Nanny of the Year award to Marcia Hall. She eloquently and passionately shared her life, her history and her appreciation for the award. She brought tears to many eyes with her moving speech and was honored with a standing ovation as she finished. (This Thursday, I will share more from Marcia, with an interview fresh out of conference!)
Conference is busy! The days are long and full, but they move so fast. Groups join and have dinners out, plan local excursions, and host cocktail parties. As the nights get later room parties form and we change to our PJs. One thing that I have appreciated each year I have attended conference (this was my 3rd year) is that the nannies are a very welcoming and accepting group. While deep and long friendships are present, others are welcomed in and quickly bonded with. We have so much in common and it doesn't take long to make friends.
I loved setting up the Nanny of the Year (NOTY) table with all the donations of wonderful prizes. Marcia ended up with a huge suitcase full of gifts, not to mention the stroller that couldn't fit. I gave a speech at the NOTY Luncheon highlighting my year and introducing the deserving recipient of this year's award. I moderated some workshops and loved being the host of "The Nanny View" where nannies asked the tough questions of the seasoned nannies. Before and after conference, I spent hours in board meetings planning for the future and speaking for the membership committee. I realized that the running this weekend was harder… being pregnant and all. I had to take some moments to stop and put my feet up and tell myself to take off the heels.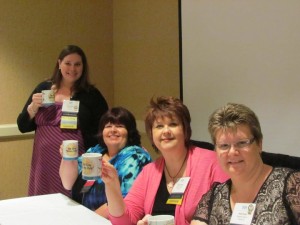 Glenda and Kellie were speakers this year for several workshops. Kellie  shared her wisdom in "Anatomy of a Work Agreement." Glenda and Kellie both spoke in "Seasoned Nannies" workshop and with Becky Kavanagh made up "The Nanny View" panel where they spent some time taking questions from attendees, and shared all the things we wish we knew as nannies…that was until I put them in speed round and only accepted condensed answers. Both Kellie and Glenda's have been working behind the scenes, for months, to prepare for the Service Award Pin Celebration.  Their seasoned leadership and heart for nannies and industry professionals honored many as they received their pins this year.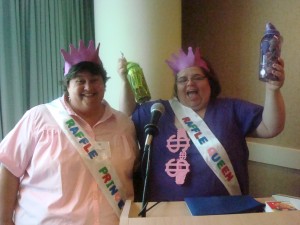 "Oh, that Alice Schaffer!" By far the most entertaining and fun part of conference was seeing Alice as the  "Raffle Queen"! Each year Alice works so hard gather donations, sell tickets, encourage generosity and spread the fun. But, this year she was her best yet and the queen even had princesses. There was such a fun and excitement around the raffle that benefited Big Brothers and Big Sisters, this year. The raffle and closing reception was the perfect way to end an amazing conference! Fun was seriously had by all – thanks to Alice's humor, organization, and volunteers. By gathering thousands of dollars worth of donations, she helped to raise $2,745!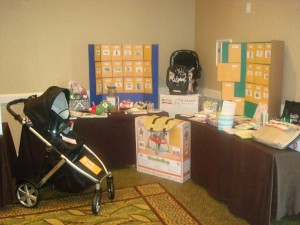 The Regarding Nannies team was very busy all weekend each on different tasks, but we managed to get some time to all hang out together on the beach on the hotel grounds. Though it is usually only once a year that we are all together, we always enjoy seeing each other! Can you tell?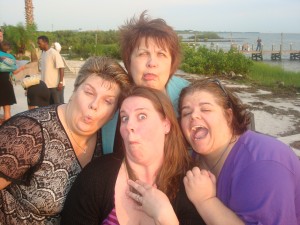 If I had to describe this year's conference in one word, I think that it would be "Happy"! There was such great joy, anticipation, and energy in the group of over 120. I am not sure if it was the heat and the sun, the new excited, members, or all the New Born Care Specialists with their new track… but it was lively! I was most encouraged to see the sparks that I felt 2 years ago at my first conference now in so many other people. In another light, I heard seasoned nannies seeking new directions and excited about the possibilities ahead.  It simply was wonderful, and as I type on the plane ride home, I am already thinking about next year wondering what city conference will end up in….Vegas? Nashville? Albuquerque? We will have to wait and see.