Sometimes kids are like computers: input and output. They spend more time listening and watching than we realize. We met some neighbors the other day who were interested in seeing the inside of our house. My husband obliged, but said "don't mind the mess". He meant an unmade bed, some dishes on the counter and so on, but the neighbor's 5 year old quickly revealed some family secrets. "Oh don't worry, our house is always messy, alot." If you haven't figured it out yet – you will…kids are like sponges. They often repeat words or actions that weren't meant to be repeated. While no nanny is perfect we should strive to be living lives that are worth repeating – not to look good, but to invest the best into the children.
While this subject and examples could be endless, I will leave you with 3 lessons how Leading By Example can serve (or hurt) the kids in your life.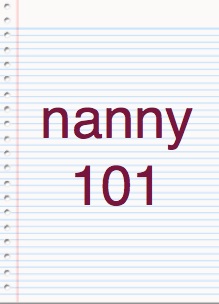 Nanny 101: Leading By Example
By: Greta Schraer
Lesson 1: Watch Your Words
If a word is not worth repeating is it worth saying in the first place? Curse words, degrading talk or even negative tones will be picked up on as soon as kids an talk themselves. I realized, after I heard it repeated by  3 year-old N, that I must say "Oh my goodness" too much. Though it was not negative in anyway, it showed that my conversation was being received and repeated down to the tone. Think about the words you use. Expand your vocabulary and build new descriptive words onto the basics. This is great to do with kids of all ages, young to old.
Example: Nanny Sandy noticed that 2 year old Joey loved to talk in the car. She often spoke to him about the things that they saw on the road – first because he was into construction trucks, then into all trucks. She expanded the conversation to neighborhood locations: fire station, the bank, post office, parks, restaurants, etc. Pretty soon as they drove down the main roads, Joey could name every place she had mentioned. This led more in depth conversations and visits, like counting the mail trucks at the post office. By recognizing Joey's interest Sandy was able to create conversation and vocabulary with Joey.
Lesson 2: Healthy Habits
Not only do children hear all the things we should and shouldn't say, but they also watch our every move. That means our habits of biting nails, or running late could easily wear off on children. Similarly, by choosing to model good habits – children at a young age can be taught skills the right way early on. Do you leave your shoes out or throw your coat over a chair? These are a few that I used to do when the triplets were babies. I was the only adult home, and the babies were not yet wondering. But as they matured and they had a spot for their coats and shoes, I quickly moved my stuff to the mud room too. First I had to remind them as I did it myself. Soon, it was the first thing WE did as we come in – out coats went on the hooks and our shoes in the cubbies.  Pretty soon, no one had to be told to take their shoes off before entering the kitchen, it was just done!
Example: Nanny Eden was known for being 5 minutes late wherever she went. This reflected in her work sometimes, as she would run out the door with 7 year-old Mark and 9 year-old Naomi, each day to get the kids to the bus on time. This usually left breakfast dishes on the table and even a pan on the stove. Mark and Naomi were not learning how to clean up after themselves at breakfast and had to run to the bus as it drove down their street.
Nanny Eden has some room to grow in her morning routine. She is bringing some of her personal flaws and irresponsibility into the lives of the kids. While it might seem to be "working", the kids are not learning important lessons that will set them up to be successful at school and in their lives as they grow. They will likely repeat the patterns they are seeing each school day. This may even come back to hurt Eden's job if she cannot learn some more responsibility.
Lesson 3: Unmasking Manners
I went through a season with the boys, where I focused on manners. I found that because there were three of them and our life was often fast-paced, they often fought for attention which produced loud talking or whining to get what they wanted. I decided that making a theme week around manners would serve us well – it couldn't hurt right? I even made some bright-colored foam circles, wrote the manners on them and hung them on the windows where they could see them. (See more about how I taught manners here.) This acted as a great tool, not just for me but the whole family. Mom, Dad, and Grandma began focusing and modeling obvious manners and requesting manners given. With the circles on the windows it became a fun game – "Which manner should you use?". Manners teach respect and authority and I believe build a bridge between children and future adult leadership figures. What teacher doesn't love an unrequested "please" or "thank you"?
Example: Nanny Eliza loved to take the girls out to eat every so often. She felt it was a great opportunity to learn table manners and how to act in a restaurant and interact respectfully with the people there.  After awhile, the girls new how to kindly order their own meals, place their napkins in their laps, and even the proper utensils to use at what time. One Monday Eliza was greeted by a thrilled mom. "We took the girls to a 5 Star restaurant this weekend, and were really nervous… but they were so well-behaved that the waiter even complimented them." Eliza was beaming as some hard work over the last year had paid off.
No matter what you are trying to teach, leading by example will help the system. The old saying "actions speak louder than words" is true. With children give instruction, teach, and reteach… but most of all, don't ask them to do something you are not doing. And yes, that might mean that you have to eat some peas every so often.
Homework Assignment:
1. What is something that you must say all the time – because your kids say it too. Is it beneficial and helpful?
2. What behavior do you see in your own life that may affect your kids in the future? How can you make a change so that they see you making good choices and therefore are challenged to do the same?
3. What are some manners that your children lacking? What strategy could you use to lead by example?