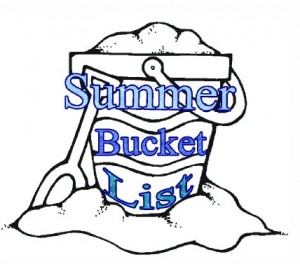 June 21 is the first day of Summer which brings us to the question:
How are you going to spend your Summer?
Well, my kids are grown up and off to camp and jobs this summer and I am home until August but when my first nanny kids were little at the beginning of summer we made a list of all the places we could go that were inside, all the places we could go that were outside, the games we liked to play, and the things we liked to do at home.Then when we wanted to do something we just got out our list and chose something.
Over at the Little Wonders Days Blog she had a "Summer Bucket List Party"  She invited other bloggers to share their ideas of what they plan to do this summer and then encouraged them to share.
Here is her original post
http://littlewondersdays.blogspot.com/2011/05/your-summer-bucket-ideas.html
and here are the fun ways that people chose to create their bucket list
http://littlewondersdays.blogspot.com/2011/05/summer-bucket-list-party-open-little.html
We asked our Regarding Nannies Facebook fans to share with us their "Summer Bucket List" and this is what they came up with
Tara :Teach the Little Litigator to ride a two wheeler!
Debra  : Mine get little construction worker to learn safety in parking lots and by roads
Taylor: Funnel cakes, water slides and at least one spa pedicure. Oh wait–were you talking about work? 😉
Danyel : Working!
Gael Ann :Nanny work: Try out every park with in walking distance (I live in the city).Personal: try every one of Panera's salads (note to Gael Ann…I highly recommend the Steak &Blue!)
Nanny Brandi: Get the kids to take their shoes off and leave them in the same place so we don't spend a lot of wasted time looking for shoes.
Complete all iced drinks on the Starbucks menu
Michelle : having the best time ever at DisneyWorld!!!
Anne-Marie :To lose weight, get organized and clean out my files, closets and drawers. I want to find a cabin on the lake for vacation in NH. Enjoy the Summer and start writing for Regarding Nannies activity page.
Karen: Going to visit Grandma and my employers and kids are heading to Australia! I would also like to see the last shuttle launch in person!!
Jenn : To have successful summer programs @work. To party with my neice and see her off to college for her big adventure into higher education.Make sure I plan some me time so I don't go crazy!!!!!! Meet my new niece or nephew!
RN Team Member: Greta:Personally get monthly pedicures… i think it is a must for all summer pregnant ladies in their 3rd trimester- lol!
If you want to make a bucket list and need a little help, here are a couple of easy ideas.
I have included graphics for 6 different kinds of chains that you can write your ideas on.
You could buy a bucket and print your ideas on the paper strips and pull one out each day or each week. You could color code them for water ideas, outings, crafts, so that you have some control over the plan for the day or the week.
You could simply print out the strips and make a paper chain out of them, or you could print out our bucket graphic and let the kids decorate it.
Whatever you do, relax, have fun, enjoy your summer and feel free to add your ideas in the comments section.
If you would like to send us pictures of what you did…we would love that! Get your employers permission and  send them to Regardingnannies (at)gmail (dot)com ATT: Glenda…we can block faces too!
So tell us…………what's on your bucket list?