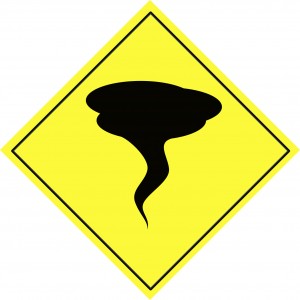 The United States has had a horrible 2011 weather wise so far.  There have been record number of tornadoes and deaths in Alabama, Missouri and Massachusetts amongst other areas.   Alot of the families were not prepared for the weather.  Their towns and cities are still working to get the debris from the devastation removed so they can start rebuilding.
Does your family have a safety plan? Do they have a disaster plan? Have a safety kit? Do you have a safety kit for your animals? If not that is alright, you have time now to put things into place.  They are saying that this hurricane season will be a rough one and the tornado season isn't over yet either.
Make sure to come back later this week when I introduce you to a special nanny named Bridget who lives in the Springfield Massachussets area where a F5 tornado hit this past weekend. She is organizing  supplies to help the victims. I will be sharing how you can help as well and why she got involved.
I have collected a few sites that have the three basic things to get your house/family/work ready for any disaster that may come your way.  They include 1. supply kit, 2. emergency plan and 3. being informed of the emergencies that could happen.   Below you will find links to the sites and brief summaries for assistance.
Ready.gov: (they have lists that you can print out to keep)
Launched in February 2003, Ready is a national public service advertising (PSA) campaign designed to educate and empower Americans to prepare for and respond to emergencies including natural and man-made disasters. The goal of the campaign is to get the public involved and ultimately to increase the level of basic preparedness across the nation.

Ready and its Spanish language version Listo ask individuals to do three key things: (1) get an emergency supply kit, (2) make a family emergency plan, and (3) be informed about the different types of emergencies that could occur and their appropriate responses.

The campaign's messages have been distributed through: television, radio, print, outdoor and Web (PSAs) developed and produced by The Advertising Council; brochures; www.Ready.gov and www.Listo.gov Web sites; toll-free phone lines 1-800-BE-Ready and 1-888-SE-Listo; and partnerships with a wide variety of public and private sector organizations.

In 2006, the Department launched Ready Kids, a tool to help parents and teachers educate children ages 8 – 12 about emergencies and how they can help get their family prepared. The program includes a family-friendly Web sitewww.Ready.gov/kids and online materials developed by Sesame Workshop and Discovery Education.
Here is a brief look into some of the items in an emergency kit:
Recommended Items To Include In A Basic Emergency Supply Kit:

Water, one gallon of water per person per day for at least three days, for drinking and sanitation
Food, at least a three-day supply of non-perishable food
Whistle to signal for help
Dust mask, to help filter contaminated air and plastic sheeting and duct tape to shelter-in-place
Important family documents such as copies of insurance policies, identification and bank account records in a waterproof, portable container. You can use the Emergency Financial First Aid Kit (EFFAK) – PDF, 277Kb) developed by Operation Hope, FEMA and Citizen Corps to help you organize your information

To read the rest of the Supply list and additional items please visit: Get A Kit
Here are some links to various places that can get you prepared for ANYTHING almost.
Take These Important Steps NOW Before An Emergency Strikes
http://disaster-emergency-preparedness.com/
Food Safety Links:
Keeping food safe in times of emergency/disaster
Frozen Food and Power Outages: When to Save and When to Throw Out
Refrigerated Food and Power Outages: When to Save and When to Throw Out
To get the kids involved and informed make sure you visit the FEMA Ready Kids Site.
They have a parents and teachers guide as well
If you do NOT want to put together a kit you can purchase one from 1-800-Prepare or BePrepared
To donate blood please visit the Red Cross
An Android App from the Red Cross and Dr. Oz: SOS (free to download)
Offering emergency care protocols & guides, by the American Red Cross & Dr. Oz. The American Red Cross and Dr. Oz have teamed up with Sharecare to create the ultimate emergency care app exclusively for Android mobile devices. The S.O.S. app provides step-by-step video narration by Dr. Oz and follow along demonstrations allowing people to quickly and confidently respond to common emergency situations with the goal of saving lives. This free app also includes an expansive Resource Guide for easy access to additional emergency care information.