by Glenda Propst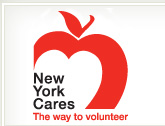 Nannies Giving Back is one of our features here on Regarding Nannies. We like to spotlight nannies who are giving back to their community in unique ways. Today we are talking with Beth Lehman who volunteers with an organization in New York City called New York Cares
Can you tell us a little bit about the volunteer work that you do within your community?
I have been volunteering for ten years this summer. I currently lead 2 projects.
Urban Adventures which is a program where we take under privilege children from low income housing on monthly field trips.
The children earn merits by doing well in school, participating in an after school program and completing their homework daily.
If you ask the children "what would you be doing to day if you were not on the trip?" the answer is "watching tv or playing video games".
They can't go outside and play as they live in unsafe neighborhoods with drugs and guns. Our program introduces the children to a life outside of their neighborhood. We do a variety of field trips. A few of the projects we have recently done are salsa dancing, hall of science, corn field maze, ice skating, Bounce U(indoor inflatable bouncing gym), architecture scavenger hunt, canoeing and row boats with an outdoor BBQ.
Bedtime Stories is my other primary project. This project takes place in a family homeless shelter. We run a weekly program here. Most of the children have been bounced around during their young lives. Most are behind in school. With this project we work with the children 1:1 or 1:2 and give then the undivided attention they deserve. The volunteers and I work on reading basics. We read for about half of the program then do art projects, play games, have musicians come in and sing, or doing a cooking project.
We try to get kids to see how important reading is and it is not only in books.
Do you work with one organization or several organizations?
I volunteer primarily through New York Cares on several different projects. Through New York Cares I was able to volunteer at the 9/11 Family Assistance Center with the Robin Hood Foundation. At the family assistance center I worked with the displaced workers, then displaced residents and was then trained to work with the victims families. It was probably one of the hardest things I have ever done in my life but definitely the most rewarding.
Can you tell us a little about this organization?
New York Cares – is now the city's largest volunteer organization, running volunteer programs for 1,200 nonprofits, city agencies and public schools. Today's volunteers share our founders' vision that we all have a role to play in making our city a better place. More than 370 volunteer organizations, united under the umbrella of Hands On Network/Points of Light Institute, have adopted New York Cares unique approach to service.
More than 53,000 people volunteer with New York Cares year after year because they know they make a real difference in this city. Together, we help 400,000 disadvantaged New Yorkers yearly!
How did you get involved? July 2001 I had my orientation. After that I signed up for my first projects in August 2001. I still volunteer with the group I did my first project with. Now, I am a team leader, an ambassador, and mentor for New York Cares. In 2008 I received the Team Leadership Award in which I was nominated for by my volunteers. All it takes is 1 hour for orientation and a  world of new and exciting opportunities await you. 
What are some of the projects that you do? As a Site Captain – Hands on New York Day – cleaning and revitalizing NYC's most deserving parks. New York Cares Day – revitalizing and cleaning NYC"s most deserving schools.
At these projects we paint murals, plant gardens, paint buildings, offices, class rooms, clean out storage areas, clean and organize libraries, restore play grounds, paint line games and any other little projects that need to be done.  
As a team leader I have lead dog walking at homeless animal shelters, bedtime stories, urban adventures, fun and games at a HIV/AIDS hospice, the BID Draw, Easter Egg Hunt Eggstravaganza, and Bingo at a Nursing home just to name a few.
As a volunteer I participate in another urban adventures group, gardening in small neighborhood gardens, painting murals, painting interior offices for non profit organizations, phone calls for the fresh air fund, Gallop – helping disabled children horseback riding, read to the visually impaired by recording books, serve meals to homeless at a food kitchen and Winter Wishes where we 'adopt' a child and buy a holiday gift on their wish list.
Can you tell us what motivated you to get involved in your community?
I was working in NYC as a nanny I saw so many children that were privileged. I wanted to do something with children who were under privileged.
I also wanted to find projects I could volunteer at with the children I cared for.  I felt it was important for the children to be involved in something as well.
I spoke with the parents who were all for it and encouraged me to do  it with the kids.
I have taken the kids to projects with Senior citizens and to the homeless shelter. The kids have seen things that have made them more compassionate towards other. They are the first to pack a box of old toys or clothes to take to the shelter to the children that do not have as much as they do.
By volunteering it opened my eyes to other issues that were happening but not really known about by the public.
Change does not happen by it self. Be aware of what is happening in your local area and be a voice for those not heard. Giving back is always so rewarding. Through my volunteering at the Homeless Shelter I took things one step further as the "City" wanted to cancel recreation programs in ALL shelters.
My reading program is run through "recreation" even though it is not a recreation project. I started a letter writing campaign to every official in the NYC and State government.
The letter writing campaign had over 3000 people write letters on our behalf. My volunteers and I did some fundraising to save at least 'our' shelter program. We raised about $30,000 in under 2 months. We (volunteer group) created awareness to the community by contacting every city official in NYC. We started a facebook page that people could donate to and a few other projects. We raised about $30,000 which went into the recreation department at the shelter.We saved all of the programs city wide. Our letter writing campaign worked. We explained how recreation wasn't just sports, games, and fun activitities. Recreation programs had learning projects such as our literacy project, tutoring, computer projects, and SAT programs. If they were to lose these programs there could be no volunteer projects as there would be no on duty staff to oversee the projects. Our campaign succeeded, the city found the money to put in the budget and the money we raised was used in the Recreation program  to send kids to summer camp, take field trips during holiday breaks, get supplies needed for the program. We have continued to raise about $10,000-15,000 each year since then.
Can you share one of your favorite stories about your volunteer experiences?
There are so many to choose from. I find the experience of volunteering enriches my life by interacting with young people, you can learn so much.  I have gained a sense of satisfaction knowing I have made a difference to a young person's life just by being part of it.  To sees a child's face light up as they tried a new experience such as getting into a boat for the first time or the pride of reading a page in a book by themselves for the first time and seeing the joy in their faces are little things people take for granted but they are so exciting for a child. Little tasks that are completed. The unspoken 'thank you' for helping me.
If someone wanted to help one of these organizations how would they go about doing that?
http://www.newyorkcares.org/donate_now/
You can designate a specific project. Request Bedtime Stories at Jackson Ave or Urban Adventures at Jacob Riis. All funds raised for bedtime stories are used to buy books for the children to keep. We try to give each child at least one book a month to keep. It is important to have them start their own home library. With Urban Adventures the money goes towards the project admissions for the children and lunches while out on trips.
Do you have any advice for nannies who want to get involved in giving back to their community?
I volunteer with New York Cares as there is not a full time commitment involved. You can volunteer when it fits your schedule may it be weekly, monthly or yearly. They have project 7 days a week at all times of the day. If you register for a project make sure you show up for the project. Projects depend on the volunteers. Other people are depending on you once you make that commitment.
New York Cares is part of the Hands On Network. Hands On Network has sites nationally and globally for volunteering
Here are links to both:
http://www.handsonnetwork.org/
Is there anything else you would like to share with us about yourself or your work within the community? I volunteer as I am passionate about a cause. I like to help other people. I feel little things I do make a difference. I feel like I am more connected with my community. I enjoy meeting people that have the same interests that I have. I have met the most incredible friends through volunteering. I have explored new areas of interests that I probably would never have done otherwise. I feel that I have expanded my horizons on all aspects. I have a purpose to get up and out of the house. I feel better about my self! As an added benefit, it strengthens your resume.
Beth Lehmann is a native of Tacoma, WA transplanted as a nanny in New York, NY. She has  been  Nanny for 25 years (as of June 16th, 2011). Current nanny position for 9 years caring for 2 active boys and 2 exhausted working parents (rock musician and a lawyer). She has  worked for 5 families and helped raise 10 children.She is a Fur mom to 2 cats Nellie and Chloe.
She is also a moderator for the Nanny Network message board.
In her spare time she enjoys cooking, baking, crafts, swimming, theater, exploring museums, travel, writing poetry, photography and volunteering.