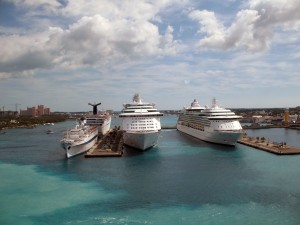 Disney Cruise Lines (DCL)  was recently named the 2011 World's Best Large-Ship Cruise Line for Families by readers of  Travel + Leisure magazine. And it wasn't even close. While only nine points separated the 2nd through 5th place cruise lines, DCL's score was more than 14 points ahead of the second place finisher. DCL earned that ranking by offering something for everyone in the family (both individually and as a family unit); fabulous dining experiences (terrific food, in unique settings); and the best crews in the industry.
Disney Cruise Destinations
When the new Disney Fantasy sails for the first time in March, 2012, the Disney Cruise Line will have more than doubled in capacity over a two-year period. Earlier this year, the Disney Dream became DCL's primary carrier on its long-established 3-5 night Bahamian cruises out of Port Canaveral Florida (which include ports of call at Nassau, The Bahamas and Disney's private island, Castaway Cay). With the addition of the Dream, the Disney Wonder has been repositioned to the West Coast. DCL sails the Wonder to Vancouver, British Columbia, Canada; the Mexican Riviera; Alaska; and even a special 14-night cruise from Los Angeles to Hawaii.
The Disney Magic sails an eclectic mix of itineraries, including week-long Eastern and Western Caribbean cruises (which include stops at Castaway Cay), departing from Port Canaveral, Florida; quick 2-night cruises originating in New York; and one to two-week Mediterranean cruises, originating in Barcelona, Spain. And when the Disney Fantasy launches, it will sail the Eastern and Western Caribbean, mostly departing from Port Canaveral, Florida, but also including some sailings out of Galveston, Texas.
Who Should Take a Disney Cruise
As I mentioned above, Disney Cruise Line does more than any other cruise line to appeal to passengers of all ages. DCL offers professionally-staffed children's programs for children of all ages, and only the nursery (for children under age 3) carries an additional charge. Three through 10-year-olds can enjoy the Oceaneers Club and Oceaneers Lab. 11-13 year-olds have the tweens-only Edge private club. Teens 14-17 have the Vibe private club, and even a Vibe-members-only onboard social intranet site. Best of all, parents can keep in touch with their children at all times, thanks to DCL's ship-wide Wave Phones.
But a Disney Cruise isn't just for kids either. Each DCL ship also offers adults-only experiences. In addition to the onboard spa, adults-only pools, and an adults-only entertainment district, each DCL ship also offers specialty adults-only dining opportunities. Of course it wouldn't be a family vacation without family togetherness time too, and there are plenty of DCL experiences designed to entertain the entire family.
Disney Cruise ships offer Broadway-style shows, replete with familiar Disney music and elaborately-costumed characters, and onboard theaters feature first-run films (even some in Disney Real-3D). DCL's unique "rotational dining" gives families the chance to experience each of the ships' unique dining rooms – from the magical to the elegant, from festive to casual. Shore excursions include family excursion options; not to mention deck parties; family fun nights; and even dive-in movies, shown poolside.
Planning a Disney Cruise
The most important thing to know about planning a Disney Cruise vacation is that booking a Disney Cruise is unlike booking on any other cruise line. Most cruise lines are priced much like airlines, with constantly changing fares and often last-minute deals available as the lines work to fill their ships. By contrast, Disney ships are currently sailing at above 90% capacity. As a result, Disney releases cruise pricing in tiers. Tier 1 pricing is available beginning the day that booking opens for a given cruise. Once the staterooms allocated to Tier 1 are booked, pricing moves to Tier 2 (which is somewhat higher than Tier 1 pricing). This process continues until all staterooms are booked. To summarize, to get the best pricing, book as early as possible. Booking for itineraries through December 2012 has been open since early 2011. While Disney has not officially indicated when the next round of itineraries will be released, many travel agents believe that new itineraries will be released as early as October, 2011 for travel in 2013.
While it is certainly possible to research and book Disney Cruise Line online at http://disneycruise.disney.go.com/, I highly recommend booking DCL via a Disney Specialist Travel Agent. As I mentioned previously, Disney Cruise Lines rarely offers discounts directly. And if you don't know how to book using a discount, Disney is notoriously unhelpful on that front – if you call to make a reservation, Disney reservation agents generally will not offer information about discounts unless asked if a specific discount will apply to a specific cruise. But Disney Specialist travel agents will often offer Disney Gift Cards (which can be used as a form of payment onboard) or shipboard credits to encourage bookings – and if a discount does become available that covers your travel dates and situation, your Disney Specialist travel agent will work to re-book your reservation under the discount code, if it would result in a savings. (Note: early booking pricing is usually better than any discount that would become available later anyway). Whether you work with me or with another travel agent, make sure that the agent is a Disney Specialist. Disney Specialists have completed training through the College of Disney Knowledge and will be better prepared to assist you with your Disney-related vacation.
So, What Will This Cost Me?
Sure, a Disney Cruise Lines cruise sounds great, but aren't Disney Cruises more expensive than other lines? In a word, Yes. DCL is more expensive than a similar itinerary on a Carnival cruise, for example. But you're paying for the Disney difference. There's a reason Disney costs more. With Disney, you'll experience the best shows, the most unique dining, and the broadest range of children's programming offered anywhere in the cruise industry. That said, Disney Cruise Line pricing, while higher than discount lines, remain surprisingly affordable. An inside stateroom on a 4-night Bahamas cruise out of Port Canaveral can be had for as little as $460/person (based on double-occupancy), and a quite comfortable Deluxe Family Oceanview stateroom with a verandah (which sleeps up to 5 people) can be had for under $2000/person (based on double-occupancy) even on the most expensive sailing dates. I ran a sample quote for a family of four, taking a 4-night Bahamas cruise in October, 2012. The total fare came to $3,500 for the whole family in a nearly 300 sq. ft. Deluxe Family Oceanview stateroom with verandah (a huge stateroom by cruise industry standards). And remember, this is a cruise fare. That $3,500 includes all standard meals and snacks (there are additional charges for specialty dining); soft drinks (alcohol is extra, but DCL is more generous than most lines about allowing you to carry on your own alcoholic beverages); all children's activities (except the nursery); all shows; and most other activites (spa treatments and shore excursions are extra).
Do you have questions or want to book a Disney Cruise vacation? Email me at ajritz@fairytalejourneys.com or call (816) 853-0456. Mention Regarding Nannies and either book a new Disney Cruise reservation or transfer an existing Disney Cruise reservation and receive a Disney Gift Card worth up to $100 (depending on the travel package price).
about Aaron:
Aaron Rittmaster is an attorney by vocation and a Disney Specialist Travel Agent with the Fairytale Journeys travel agency by avocation. He's a Disney-loving husband and father of two young children, and the proprietor of the Dis Dads Club website.