by Angie Fogo Moulton
A US quarter can mean a lot of things to a lot of people.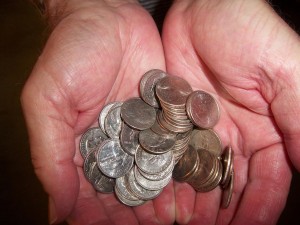 To most, it's as simple as a quarter of a dollar. Twenty-five cents. Four of them will buy you a soda at McDonalds. The average collectible quarter you might see in your pocket today could be worth up to $300 (the 2004 Wisconsin State Quarter With an Extra Leaf minted in Denver, if you'd like to search your pockets for treasure.) For collectors, one of the most valuable quarters, the 1901 Barber quarter minted in San Francisco can be worth over $49,000 in good condition, and one that was sold in 1990 fetched a cool $550,000!
But to my two brothers and I, the humble quarter can mean so much more. It means that my Dad, Glenn is thinking of us every time he puts a quarter dollar in his pocket.
"In about 1972 or 1973, when our daughter, Angie, was small, it seemed like I always had an abundance of change in my pocket," my Dad said. "Angie was born in 1971, so I decided it would be fun to start collecting all of the 1971 quarters, so that I could give them to her as a Christmas gift."
Every year since, sometime Christmas evening while we're sleeping, a plain white envelope with our names written out in my Dad's distinctive handwriting appears in the branches of the metal-pined Christmas tree my parents have used almost every year since before I was born. Some years, there was a jackpot's worth of quarters in our envelopes. Other years, just a couple.
But he doesn't just collect the quarters for me these days. Two younger brothers were born to our family 1974 and 1979, so he started watching for those quarters, too. But he noticed, after a while, fewer quarters could be found in our birth years. So he added our high school graduation years to the mix. Then the year we married was added.
And that's when things got interesting.
"In 1999 the first grandchild came along, so I began collecting quarters for her birth year. As five more grandchildren have come along, I've added their years as well. So, now I collect quarters minted in 1971, 1974, 1979, 1990, 1993, 1996, 1998, 1999, 2003, 2006, 2007, 2009, 2010, and 2011. Once in a while I run across a bicentennial quarter (1976). They are kind of cool, so I save them and usually divide them among the kids and grandkids."
According to one online estimate, there are as many as 65 billion quarters in circulation. If my Dad goes through 10 quarters a week, that means he's gone through almost 20,000 quarters in the last 38 years. That's .00003077% of the total quarters out there.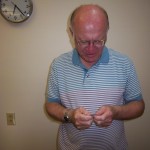 "For the most part, I don't really go out looking for the appropriate quarters," he said. "Rather, each evening when I empty my pockets, I check each quarter. If it was minted in one of those special years, that quarter goes in a drawer in our jewelry box. If I'm traveling and find a quarter, it goes into a special pocket in my shaving kit."
The quarters pile up, then just before Christmas, they go into those plain, white envelopes.
"On an evening in late December of each year (usually December 23 or 24) I pull that drawer out of the jewelry box and start separating and counting quarters. It's always kind of fun to see how well I've done for each person that year."
Some years are much easier to find than others. The fun new quarters that the mint started making to commemorate states and parks has made things quite a bit more difficult.
" It seems like in the past three or four years, I've not had such good luck finding appropriate quarters–even those from recent years. I've found just a small handful of 2009 and 2010 quarters. So far this year I've not seen a 2011 quarter. Until 2010, I had not had two people sharing a 'saver' year. Then, in 2010, we were blessed with two new grandchildren. I'd like to say that I find enough 2010 quarters for both of them, but unfortunately, in the nineteen months since the beginning of 2010, I've probably seen less than a half dozen 2010 quarters."
The quarters tradition is so special to us three kids, two of us have carried it on to our own kids. Having my one and only child in 2010, I can echo my Dad-2010 is a tough year for quarters. Because I don't use a lot of cash, I ended up finding not one quarter for my daughter last year.
A lot or a little, the quarters add up over the years. My youngest brother, Billy-always the more financially sensible between the two of us-used some of his thriftily saved quarters for a down payment on his first home.
Dad has a couple of tips for anyone interested in saving coins for someone you love.
"Be very intentional about checking quarters daily or more often. Usually if I have just gotten quarters in my pocket, I try to check them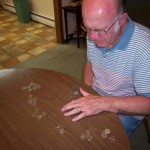 immediately or at least before I have a chance to spend them. With what seems to me to be fewer quarters, one doesn't want to let any get away by spending them before you check them. It may become necessary to do more than just collect pocket change. If you are really serious about getting a nice collection, you may have to go to the bank and 'buy' some quarters to look through every now and then."
As the years pass, and more years get added to the keep pile, saving them becomes more and more of a project.
"As more years are added to my list of 'saver' years, and as I get older, it's harder and harder to remember what years to keep. But, for the foreseeable future, I'll keep saving and sharing those special coins as long as Uncle Sam keeps minting and circulating quarters."
And it's awfully special to all of us that he will.
Angie Fogo Moulton is a self-avowed Kindle addict who has settled down with her husband and 15 month-old daughter in rural Central Illinois. A theatre and English degree-holder, she once had the goal of attending college until she died. She's now a stay-at-home Mom who volunteers for the Red Cross disaster and blood services branches. She spends her spare time reading, collecting fridge magnets and trying to perfect the perfect nap.