by Kristen Kanoski and her son Jack
Kristen and Jack have been busy doing Fall crafts and she has been so kind to send them to us here at Regarding Nannies so that we can share them with our readers. When our readers send us craft ideas accompanied by pictures, it makes me want to do cartwheels (but I can't) so I just do a happy dance.  If you have a craft you would like to share with us you can send it to nannycrafters(at)regardingnannies.com
Fall Leaf Handprint Tree

Every year we make a Leaf Handprint Tree and I leave it up until the first day of winter.  I am an organized person so my arts and crafts projects are pretty organized too, however when I decided to make the tree I did it on a whim, but got everything I need organized so I could manage the chaos.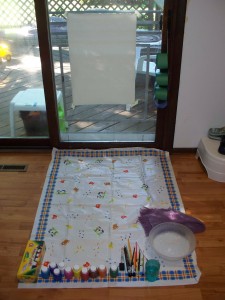 Here is what you will need:
Paper
Paint
Paintbrushes and/or foam brushes
Cup to rinse off paintbrushes
A splat mat or old towel
A bowl of soapy water
An old rag or paper towels to dry off hands
Masking tape if hanging picture up to paint on
I used the masking tape to hang the paper on our sliding glass door, if paints get on the window it is so easy to just wipe off.  I then painted the tree part brown.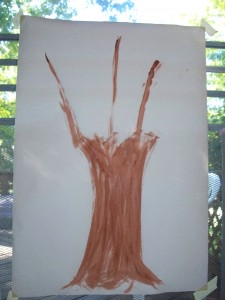 I let my son pick whatever colors he wants to paint the leaves, because I love to see the combinations he chooses or just a one color like pink and he talks about how cool it would be if pink leaves where on our tree.  I used a foam brush to paint just one color on his hand and paintbrushes to do the multicolor hand.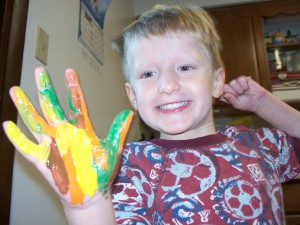 I love having a warm soapy bucket near to wash his hand off when he is done stamping his hand.  It makes for a super easy clean up while working on this project.
My son liked putting the leaves all over the tree and some on the ground and some falling.  Jack has already got several comments on how cool the painting is.  He is super proud of it and loves to show whoever shows up his tree.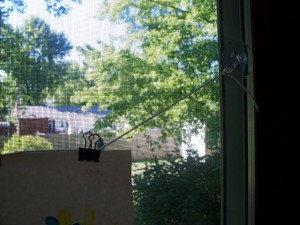 I did buy suction cups and small binder clips so I can hang up pictures to dry on the window.  I just used standard string to try on the suctions cups.  It has worked out really well.
Kristen was a professional nanny for 20 years. She is now a full time mom to her son Jack but she still stays involved and in touch with her colleagues in professional nanny field. She is  an independent consultant for Tastefully Simple.