I am a sucker for organization. I could spend hours in stores devoted to the efforts; you know the ones. As I began to acquire more and more baby stuff, before Isaac even arrived, I knew I had the fun opportunity to organize ahead of time. So, even if you are not in babyland, I know that you can get some great ideas or simply inspiration on staying prepared and knowing where things are. Here my favorites for organization in baby's nursery.
My Favorite Things – Top 5 Organizers for My Nursery
By: Greta Schraer
1. Fabric Bins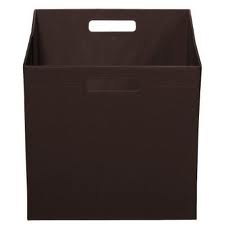 I love these fabric bins. I found these Itso Bins at Target, but there are several options in similar sizes. I have found these to be stronger than some of the other brands, and just a tad bigger. They come in a few sizes and even have square plastic holders, so that you can stack them and/or use them as drawers. I love to use these in closets to sort items while hiding the contents.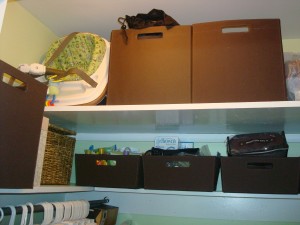 In the pictures below, you will see my the nursery closet shelves. Others hold clothes to big for baby, by size, feeding items, baby items, stroller accessories, and etc. I have one bin that is empty, so when baby outgrows clothes I can toss them in there to sort later.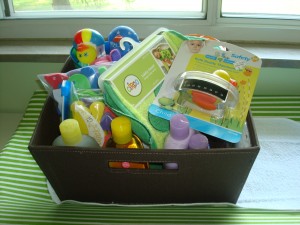 I also have stacked 2 holders on top of each other to hold some of the heavier items, like wipes. I just started working on labels for each of the bins. I made them with cardstock circles, fabric, and mailing labels and plan to attched them with ribbon.  They can be updated by printing new labels  as the closet changes. See my in progress picture below.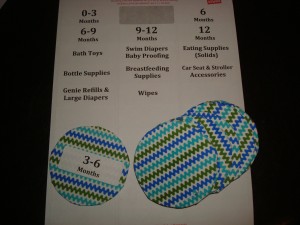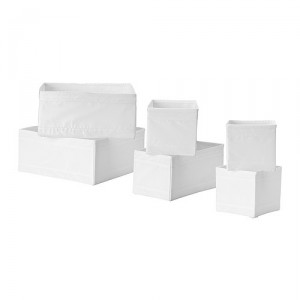 My dad gifted us an Ikea dresser, which was the only piece of furniture that we had to buy. When I was picking it up, I saw a display with these drawer organizers. I thought they were pretty great and bought a pack of 6. I ended up loving how they fit in the drawers that I went back and bought a second pack. They are great for separating small items and making the big drawers more functional too. Everything has a place, and these containers keep the items where they should be.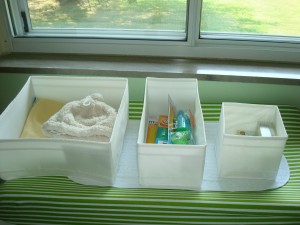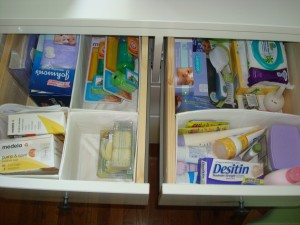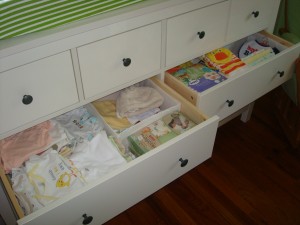 3. Baskets
One great idea for organizing is to utilize what you already have. I have baskets piled up in my basement. I went exploring for some that would work in the nursery. I love the simplicity of this basket on the dresser, sitting next to the changing pad. Diapers are needed at arms reach and this basket is just the right size for wipes, diapers, and sanitizer, keeping them organized and ready.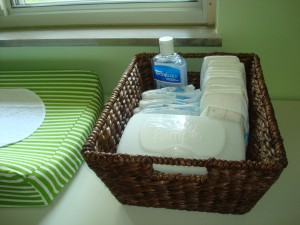 I also already had these baskets (shown below). I bought them from Pier 1 years ago to organize my bathroom closet. They have been waiting in the basement for their next destiny – as toy bins. I think they look like they could have come with this bookshelf. (By the way the bookshelf was a $5 goodwill find over 10 years ago. It has been grey, then black and now white.)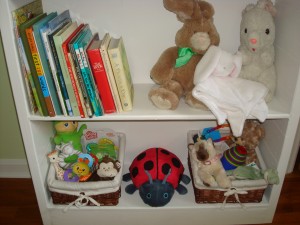 4. Hangers
I chose to use both child-sized regular hangers and pants hangers (with clips) in Isaac's closet. I didn't hang all his clothes just the "outfits". All of his layette, onsies, pajamas, and etc. are folded nicely in drawers. I like having his outfits hanging so that I can see what I have to choose from. Let's face it, dressing babies is too fun! This is also a great way to see what I have and what I need in each size.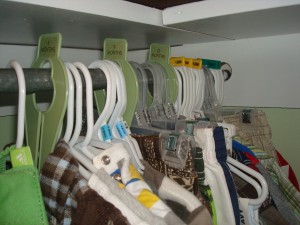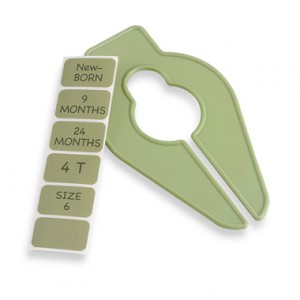 Another great idea is to divide the clothes by size. Babies and young children are changing sizes so quickly, it is likely that you will have a few sizes at one time. I have clothes from Newborn to 3T already. I found these dividers at Buy Buy Baby, but I have also seen people make their own.
Hopefully this has inspired you with some ideas to get organized. I have found that it makes life with Isaac a little more orderly!