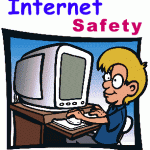 Safe Surfing with Your Charges
By: Amy Miller
I was sitting on the couch, laptop on my lap, and the television was on, but mostly just for background noise. OK. I will admit, I was on Facebook playing Farmtown. Out of the corner of my eye I caught the computer clock and actually had to blink a few times, because I thought I was seeing things. 12:35AM- is what the clock said. Sad, but true. This is where my inspiration came from for this post.
Children are just as fascinated with computers as adults. When P was only 4 years old, she loved to climb on my lap to play Petville or watch picture slideshows. At the same time, her older sister, J, was going through the "Let's just Google it" stage and only at 9 years old.
The online world can be just as scary as the real world. It can also be addicting! I love being able to connect and communicate in so many ways… Facebook, Twitter, email, blogs, online communities and much more. Plus, all that information and knowledge right at my finger tips. I am just like little J; I love to Google everything! However, sometimes I even have to tell myself, "Amy, put down the computer, take a break, and rejoin the real world!"
So, how do we make the internet safe for kids, without taking away the fun and great resources it offers?
Here are just a few of my tips…
1. Have a conversation. Just have a conversation. Be honest and open. That doesn't mean we have to be specific on all the horrible things that have and could happen. Simple and sweet- the internet can be full of information and tons of fun, but it is not always safe.
2. Set Rules & Consequences. Before allowing children to jump on the computer and enter into the online realm set some clear rules and consequences if those rules are broken. Make sure you stick to it! For older children, parents may want to consider having their child sign an "Internet Use Agreement". I found several just by typing in keywords like parent, child, internet, online, computer, agreement into Google.
To read the rest of this article, follow this link Safe Surfing.
Amy has been caring for children over 15 years in many types of childcare environments. She has been both a full-time & part-time nanny, preschool teacher, and an in-home care provider. Before the home was closed, Amy enjoyed volunteering at Maple Wood's Children home with fostered, abused, and abandoned children. Currently, Amy is a full-time nanny, in the Northern Kentucky area, for 5 & 3 year old girls and an infant boy. Her goal is to finish school and be able to teach Kindergarten or 1st grade. She is so grateful to have found the CincyNanny community and excited to now be apart of the CincyNanny blog team.