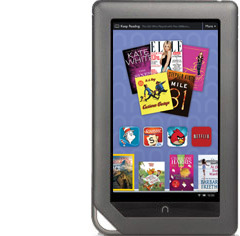 I saw another Nanny ask about finding affordable things for her Kindle she just got for the holidays.  I do not have a Kindle but have the Kindle app for my iPad2 so this was of interest to me as well.
Marty and Stacey Save you Money shared Pixel of Ink, which shares with its readers all the free books offered via Amazon as well as books for the Nook.  Pixel of Ink has a category for kids/young adults, religious books and many other categories.   These are the links to Facebook pages for the blog site links see below.
Here are few tips from others on where to find some books for your Kindle or Nook:
You can also check into your local library and see what kind of "lending" program they have e-book readers.
You can also "share" books with others from your device to theirs. (doesn't apply to all books)
Pixel of Ink Free Nook books
Pixel of Ink Free Kindle books
Pixel of Ink Young Edition
Nook Teen on Facebook
Nook Jr. on Facebook
Nook (free) Book Club on Facebook, a book club that has discussions on FREE Nook books.
Kindle (free) Book Club on Facebook, a book club that has discussions on Free Kindle books.
NC App Deals (Nook Color) on Facebook, deals on Nook Color apps, books, mags, and accessories
Kindle on the Cheap Deals on Kindle Fire Content and Accessories
Kindle on the Cheap: Teens on Facebook deals on Kindle teen and YA books on ages 12 and up
Kindle on the Cheap: Kids on Facebook
Kindle on the Cheap: Kindled Hearts on Facebook (romance)
Barnes and Noble You can search nook books. When searching do FREE and 0.00
Nookhood on Facebook helps people get the most out of the Nook color, tablet etc
Calibre on Facebook, blog is a  comprehensive and free e-book management program developed by users of e-books, for users of e-books. It has a cornucopia of features including library management, ebook conversion, syncing with devices, news download, ebook viewing etc.
Raising Ebook Awareness on Facebook Let people know how fun and easy it is to use an ebook reader, whether it's a Nook, Kindle, SONY Reader, Kobo, iPad, or any of the apps for mobile phone or PC/Mac!
BookWorms on Facebook
Nook Talk has a listing of resources where to get e-books.
Looking for the top 100 free books on Amazon? Check this out.
Do you have a Nook and want to take advantage of the Kindle ebooks? Calibre can convert book formats. Learn how to do this here.
Do you have anyplace you like to go for great deals on E-readers like Nook or Kindle for books and other things?  Please share with us!
by Alice Shaffer