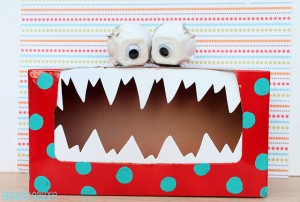 In Spanish you say :  i estoy diciendo
In French you say:   i m raconter
In Portugese it's:   i m dizendo
In Vietnamese:       it's    m nói
In Chinese it's:    I M告诉 (I M gàosu)
and in Hebrew you say it like this  : אני אומר מ '‎
It doesn't matter what language you speak, if you have kids, or if you work with kids, you have all heard those two little words that result in instant turmoil.
I'm Telling!
so today I am sharing with you a brilliant idea from Giggles Galore.
It's called a Tattle Monster, so be sure to follow this link to learn how to make your own!