Today's guest post comes from NannyFusion member Askananny.com
Whether its a trip across town or across the state, the inevitable Traveling with a Toddle will happen for many of us.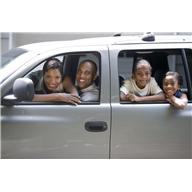 Stef at Askananny.com answers this question and offers her experience and suggestions for this age and stage …
Dear Stef,
My in-laws live 3 hours away, but we visit them at least once a month. My husband does most of the driving, and since I get car sick, we always drive at night so my son, who is 2.5 now, can sleep and I don't have to attend to his every need. Now that he's getting older we were hoping to begin leaving a bit earlier so we could spend more time with his grandparents (and not wait till Sunday pm to leave!). I'm a bit nervous as to the amount of attention he will need and unsure as to where I should sit in the car (I would rather not be in the back as it's pretty nauseating). Things to know about our son: he's in pull ups, loves TV and books, and only rarely takes an hour nap at home. What are your suggestions for a smooth car trip with an older toddler?
Dear Los Angeles Mom
We take a similar but longer (yikes!) trip to my in-laws, and, yes, the daytime travel can be a challenge. There are a lot of items you can pack to pass the time, but what can you bring that will keep a toddler happy for more than 5 minutes so you don't need to keep turning around!? Rather than going straight to the DVD player or iPad, I love audiobooks as an alternative. Travel doesn't mean it's time to tune out and shut off the imagination. Being read to is such a positive thing for children because their imaginations are stimulated and expanded, which is important work for young minds.