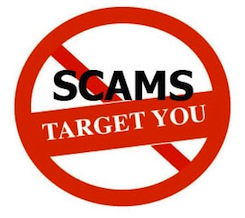 Most nannies who have been online for a while know the red flags that go up when a job sounds too good to be true. The people are over at Nannybackgroundcheck sent us this article and we thought it was worth sharing.



10 Common Internet Scams Pulled on Nannies



When you think about Internet scams you may think that the scammers only target old people.  Those people that aren't very tech savvy.  Unfortunately you would be wrong because scammers will target a specific audience when they can.  Stay alert while on the Internet, there are a lot of great opportunities out there, but there are also a lot of people trying to make money any way they can.  Check out ten common Internet scams pulled on nannies.
read the rest of the article here: 10 Common Internet Scams Pulled on Nannies