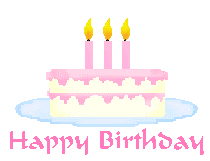 Regarding Nannies
We are

THREE

today!  We are celebrating by having a giveaway!   
Here is how to be entered into our giveaway:
Sign up for our Newsletter/Weekend Round Up

Have your nanny network of contacts (agency, nanny group, Facebook group, Yahoo group and Twitter group etc)sign up for the newsletter as well and in the spot where it says  "Where did you hear about Regarding Nannies" have them put your name.
The person with the most referrals at 11:59 pm EST  Saturday July 14, 2012 will be getting a "Birthday Goody" from Regarding Nannies.
Here is a sample of what you could post to your social media if you would like:
Sign up now for Regarding Nannies Weekend Round Up Newsletter & News via http://eepurl.com/mTrD9  . Please make sure you put my name in the "How did you hear about Regarding Nannies" section.  Regarding Nannies is dedicated to providing resources for a strong professional  nanny foundation.
The next edition of the Weekend Round Up & Newsletter will be published on Sunday July 8, 2012 after 6am EST.  If you are not signed up for the newsletter make sure to do so now.  http://eepurl.com/mTrD9