National Nanny Recognition Week (NNRW) is just a few short weeks away – September 23-29, 2012.  This is the time that many employers are wondering what to get their caregiver, and nannies are trying to find new ways to celebrate their friends.
Honoring your nanny or friend doesn't have to cost a lot of money. It's not about the amount spent, but the thought that counts.  A card picked out and signed by the whole family; include a bouquet of flowers or an Edible Arrangement bouquet, a photo of the kids or a gift card to favorite store, movies or Starbucks.  Saying Thank You – We Appreciate You when least expected makes a nanny feel valuable, appreciated and loved.
We've gathered a few of our favorites – old and new –
The Nanny Gift Shop offers an array of gifts including T-shirts, mugs, sweatshirts, iPhone covers and more!
Consider gifting a membership to INA, DEMA or conference registration to Nannypalooza!
Custom Nanny Pendant & Keychain …
 ORDER YOURS HERE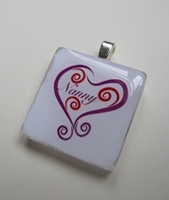 "Made by a nanny for nannies for a sense of community and self recognition."
-Marni Kent
A Word from the Artist:
It is a wonderful thing when a partnership occurs that's overflow can change the lives of others. I am honored to offer the new "Nanny" Pendant.
In honor of the dedication to make a difference in the lives of children, $5.00 from every pendant purchase ($2.00 from keychain purchase) will be donated to Shoes that Fit. For more information on this organization, please visit: www.shoesthatfit.org
Mary Poppins Glass Image Pendant
Thank you for helping me grow!
For additional ideas and to find out if an event will be in your area, follow NNRW on Facebook.   
Need more ideas?  Here are 20 Great Gift Ideas for your Nanny.  
Note that these are all independent shops and Regarding Nannies does not assume any responsibility for the quality or service of the orders.