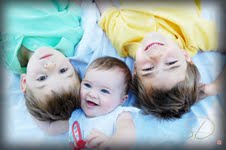 This is the time of year when parents (or nannies) are trying to get that perfect shot of their children for holiday cards. You have to decide to make an appointment at a photo studio, hire a photographer or try and take it yourself. No matter which way you choose you are most likely going to make use of the endless ideas out there on social media sites like Pinterest to get pose ideas and inspiration on what outfits to wear. Hopefully a professional photographer can be the creative mind behind your pictures, but if you plan on doing it yourself here are my top 5 tips to help you get a picture you can treasure for years to come.
             #1. PLAN: Make sure you plan on taking the pictures when the children are well rested and well fed. The best timed would be in the morning after breakfast or after nap and a snack.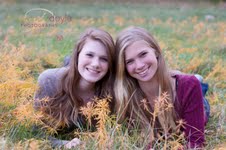 #2. BE YOURSELF: Even though there are so many great ideas for poses online make sure you don't force your children or family to be something you're not. Be yourself. Let the children be themselves. The best pictures show off your personalities, not someone else's.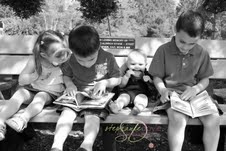 #3. RELAX: Most people try very hard and do everything they can to get their children to look at the camera. While you can get some great pictures with them looking, don't stress if they don't. Let them relax and interact with each other. Some of the best pictures happen during those times. They don't need to be looking. And remember, if you stress out the children will too! Just have fun!
   #4. BE CREATIVE: Ahhh! The "C" word!! Don't panic. Just try and think outside the box. For example, if you can't get your children to cooperate and be in the same picture then take individual pictures of each of them. They can be dressed in their usual style or have something in the picture that they enjoy, or just doing something that shows of their personality. There are many different card designs out there that can hold multiple pictures.
#5. DON'T FORGET YOURSELF!: Most pare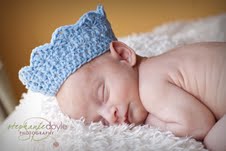 nts want to send out cards with just their children on them. Regardless of what you want to send out, make sure you (the parents) get in some pictures, too. Ask a friend or figure out the timer on the camera. You will cherish those pictures when your children are grown and they will too!
Stephanie Doyle is a FT Nanny to a 3 year old boy and a 15 month old girl. She also does family and wedding photography. She lives in Burlington, MA with her husband Bobby.  www.stephaniedoylephotography.com