Something amazing happened to the Alferio family in Cleveland, Ohio area of Medina on October 7, 2012, a family of three became a family of 8! Leann and Jacob Alferio, both teachers, along with big sister Lexi welcomed the birth of quintuplets! Three girls and two boys: Giovanni, Leighton, Kensley, Brooklynn and Jade. How does one even begin to care for one, two or three babies much less five babies?  They have lots of love and help from their family and community.   Cortney Gibson, Newborn Care Specialist (NCS) & Parent Educator and owner of Gibson Newborn Services (GNS), has assembled a team of NCS, nanny and other volunteers to help the Alferio family. Cortney is also an Executive Board Member of the International Nanny Association.   She also is one of the main organizers of the Newborn Care Specialist track of workshops at the Annual Conference.
How was the "Baby Dream Team" born? In 2005, 5 newborn care professionals joined together to care for a set of sextuplets. Knowing we would be involved in the media coverage, I thought it would be great to have one name to describe our group. It was the simplest way to highlight our volunteer efforts. The Baby Dream Team name came to me almost instantly. The team changes with time and each volunteer opportunity, but the mission is the same; to support and help families who are struggling.
I understand that you, Cortney, helped with the Masche sextuplets back in 2005, what was that like? It was truly one of the most amazing experiences I've ever had. To hold six babies in your arms…it's hard to imagine how moving it is until that moment happens. I truly loved volunteering with the Masche family and have stayed in touch with them over the years. It was completely different than my usual jobs and I learned a lot about going with the flow more.
How did GNS hear about the Alferio quintuplets? My colleague, Jenn White, is in the Cleveland area and heard about the Alferio family. She made the initial contact and introduced me to Leann Alferio.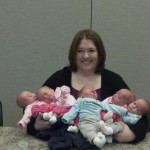 Why did you want Gibson Newborn Services to help the quints and Alferio family? I knew that I could just ask people to help and leave it at that, but I also knew I could do more. I specialize in multiples, so I know what families need and how to care for more than one baby at a time. Those tips and tricks can make all the difference, not the mention the good sleep habits we can create in the gentlest ways. Because we have a placement service, we were able to screen each professional to ensure consistency and the right team members for our project. So, instead of just asking for some volunteers, we were able to manage the entire project; volunteers, scheduling, product donations, parent education, baby care, media relations, and more.
Can you walk us through a day with the quints right now?  How many volunteers are in/out of the house?  I understand both parents are back to work at their jobs as teachers. Jake works full time and Leann is back to work part time, so volunteers are absolutely a necessity right now. The schedule of volunteers changes frequently, but we have been able to provide nearly 24 hour care with 1-4 volunteers at a time. We also have local volunteers who stop by during the day to help with feedings and housework. The babies eat every 3 hours. They can be difficult to feed due to prematurity and reflux, but typically do a good job. They don't have much "awake" time right now, but they do like to look around and enjoy snuggling with their caregivers. They sleep a lot, which is necessary for growing healthy babies. It's pretty much an assembly line of changing diapers, feeding bottles, burping, cuddling, soothing and helping them to sleep. Rinse and repeat.
How many volunteers does GNS have with Newborn Care Specialist care for the quints? We have about a dozen professional volunteers (NCS, night nannies, nannies) and about eight local volunteers. We expect to welcome more volunteers as the project continues to grow and gain exposure.
How long is GNS going to be assisting with the quints? We hope to continue to support the Alferio family until the babies are sleeping through the night, which we anticipate being around the middle of March. We'll help as long as we can!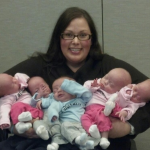 I understand that GNS has been gifted an apartment for 2 months for the volunteer NCSes that GNS has secured to stay in, is there anything that that the NCS need in the apartment to help with their stay? Yes, a very generous apartment complex has donated a two bedroom apartment for 3 months! CORT furniture has furnished the apartment for us, which is just an amazing gift. We do need to raise money to pay for the utilities. We also need; paper towels, toilet paper, paper plates and cups, utensils, basic kitchen items (pots, pans, baking sheet, etc.), queen sized sheets (3 sets), unscented laundry detergent, cleaning supplies, towels (bath and kitchen) and pantry items.
Is there anything that the Alferio family needs?  If so, how can we donate or companies donate? Although they have received many donations and are incredibly thankful, the family still has tremendous needs. The most critical need at the moment is formula. They go through a can or more a day of a special formula for preemies, Similac Neosure powder. I have created a registry online to make donating easier. Those wishing to support the Alferios can do so at www.myregistry.com/public/leann-alferio/. There is also a safe and secure way to donate to the volunteer support fund via Paypal. This will help pay for utilities and food for the volunteers. We are also accepting gently used clothing, blankets and more. Those who are donating items not on the registry can submit a form and we'll contact you shortly regarding your donation.

 I understand that GNS is vetting all NCS volunteers with the quints, why is that? We felt it was very important to ensure the family received safe, consistent and quality support. Higher order multiples attract quite a bit of attention and we wanted to make sure the family was protected from people just looking for notoriety. I felt that if my company and name were on the line, we would have to screen the volunteers like we would any placement. We also wanted to partner with caregivers who could be good teammates and really provide seamless care. Volunteers were asked to set aside their personal feelings and the way they would normally work to focus on following the care plan that we developed for the babies. Teamwork, a positive attitude, and a humble heart are critical for success in this situation. This project is so near and dear to my heart that I simply couldn't be involved without making every effort to do my best for this wonderful family.
Are you still accepting volunteers to assist with the quints?  If so, how can someone apply to GNS to assist? Yes, we are still interested in hearing from professionals who wants to volunteer. Volunteers must have newborn experience, preferably preemies and multiples, and be able to follow the care plan while working cheerfully with the team and family.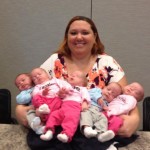 I understand that GNS and the quints were on a local TV station, how did the quints do?  Three of the volunteers, Jenn White, Amanda Schultz and I, accompanied the Alferio family to Fairview hospital to reunite the five babies and bring home the last one, Leighton. We took pictures with the family, doctors and nurses and were filmed by two local news stations. The babies did very well and were sweet and happy during the whole process.
More info on the Alferio Quint Family:
If you would like to read about their journey to the birth of the Alferio quints, please visit their family blog.  They have some incredible photos of the family. You can also see the local donations given by local businesses.