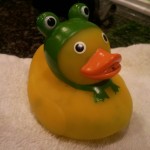 Cute Rubber Ducky…but, what's inside doesn't look so cute!
While bathing Baby J one evening, I noticed that our cute yellow ducky bath toy had an odd color showing from within. Could this be the nasty mold  I had been hearing about or was it simply discoloration from the aging rubber toy? I set the questionable toy aside so Baby J would no longer be exposed….just in case. I continued the fun with the smaller rubber bath toys by having penguin and frog romp in the soapy water and starfish and crab do the Cupid Shuffle down the side of the bathtub. As Baby J giggled at my show I wondered if the same discoloration was happening inside these darker colored toys.
Only one thing could tame my curiosity…yellow duck had to go under the knife! (Don't look Nanny Dana! Rubber Ducky was a gift from sweet Dana).What I found inside after carefully slicing the rubber toy with a sharp butcher knife was disgusting black mold. Sadly, Ducky had to hit the road followed by all of his little friends! Moist environments promote mold and bacteria and these rubber bath toys are the perfect host! They have a small opening which is easy for water to get in but not so easy for the air to enter to dry the toy out. Some of the molds that are found in our charges bath toys can include molds that cause staph infections and intestinal and respiratory issues. If you have charges with asthma some of these molds could possibly cause their symptoms to flare. You may notice a lingering cough in your charge and it is possible that moldy bath toys could be the reason. Tummy cramping and diarrhea could also ensue after our babies and toddlers playfully put these mold filled toys to their mouth.
Dr. Paul Williams of Northwest Asthma and Allergy Center and a member of the American Academy of Pediatrics' Section on Allergy and Immunology was quoted in an article by Leigh Balber as saying, "[Parents] don't need to be worried in the sense that their child's health may be harmed by ordinary quantities of mold in the environment. There are thousands of mold spores in the air that we breathe every day. So, in a lot of ways, molds are just a part of our everyday environment and our system handles it quite nicely."
The article also noted Dr. Konopasek, an Assistant Professor of Pediatrics at New York-Presbyterian/Weil Cornell Medical Center and mother of two as saying, "The likelihood of a child getting sick from this is close to zero," but adds that kids who would be at risk are those with immune problems and those younger than three months old.  That may be true, but that is not good enough for my Baby J! If he is going to slurp bath water from toys (because we all know that our charges do despite our urges for them to stop!),  I want him to slurp from a toy that I can actually see from all sides.  As his Nanny I am responsible for his well being and I am certainly not taking any chances!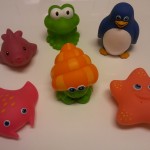 While there are methods of cleaning bath toys on a regular basis from using simple soap and warm water to using bleach or vinegar mixture we are taking a stronger approach in our bath tub environment. Baby J's bath toys now include only toys we can clean easily and without small holes that can harbor water. Toys such as hand sized balls, small buckets, stacking toys with no holes, and terry cloth puppets can be great choices for fun in the tub. Select safe recyclable items such as small plastic juice bottles can be used and put out for the recycle when your charge loses interest. Plastic boats that have a top that easily pulls apart to clean are also fun. (To keep in good graces with Baby J, Nanny Dana replaced Rubber Ducky with a new and similar version. We will keep an eye on Ducky!)  Keep in mind that even these toys that are less likely to harbor mold still need sanitized regularly by either using the methods mentioned above our by running them through the dishwasher.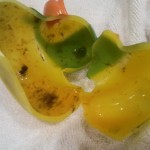 Now that this moldy issue has been brought to your attention, take time to evaluate your charges bath toys. Those that already have mold should be disposed of immediately and those that you even suspect could be containing mold you will want to be tossed out as well. Talk about this with your employers so you can all be aware of the possible dangers and be a team in providing a safe and fun bath time experience for the children. Rub a dub dub play safe in the tub!!
written by Tracey Chipps