Our Creative Nanny idea comes to us from Nanny Megan M. who actually shared what mom does with these items …
When visiting an amusement park, zoo or other attraction, mom will laminate the maps of the attraction and create fun placemats the kids can use at meal times.   What a great idea!   What else can you do?   Create trivia games, scavenger hunts, or cut into pieces and create a fun puzzle – all just by laminating the maps.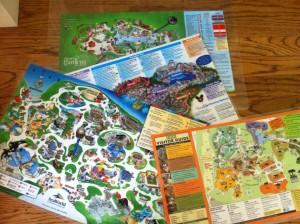 Thanks for sharing Megan!
If you have a creative idea and would like to share, email us!  What do you laminate?  
photo and idea used with permission.