Philly Cheesesteak Stuffed Peppers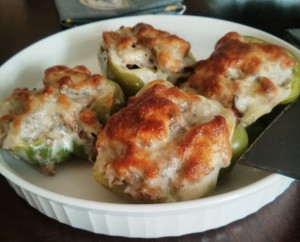 You know what's harder than eating healthy? Eating healthy and being a nanny. We're all guilty, we eat whatever our charges are eating which usually accounts to macaroni and cheese, chicken nuggets, and we even sometimes hit the all time low of spaghetti o's. I am always on Pinterest trying to hunt down the quickest, easiest, and yummiest healthy meal for my dinners. I work a minimum of 40 hours per week as a live-out nanny and I will wholeheartedly admit that once I get home, I do not feel like cooking anything immaculate. I came across a recipe so glorious last Fall and it has since became my go-to dinner. Say hello the amazing Philly Cheesesteak Stuffed Peppers courtesy of Peace, Love, and Low Carb!
Here's What You Need:
– I only cook for myself and my boyfriend, feel free to figure in a larger portion size if needed. He usually eats two servings and I eat a half.
2 Green Peppers (Large)
1 Medium Sweet Onion
8 oz. of thinly sliced Roast Beef
1 tbs minced Garlic
6 oz.  sliced Baby Bella Mushrooms
8 slices of Provolone Cheese
2 tbs Butter
Olive Oil
Salt and Pepper
What You Do:
PREHEAT OVEN to 400°
1. Start out by cutting the pepper lengthwise so that you have four total "pepper boats". You can refer to the picture to see exactly what I am talking about.
2. Remove all of the pepper "guts" and seeds.
3. Saute the onions, garlic, and mushrooms with the butter and olive oil.
4. Add salt and pepper to taste and keep sauteing until the mushrooms and onions are perfectly caramelized.
5. Slice the roast beef into nice thin strips and add to the mushrooms and onions and cook for about 5 minutes.
6. Lay a full slice of cheese inside of each pepper.
7. Fill each pepper with the meat mixture until they are overflowing.
8. Lay another piece of cheese over top of the meat mixture.
9. Bake for 20 minutes or until the cheese is golden brown.
10. Enjoy!
About Nanny Chelle:
Chelle Cochran is a WV native who nannies for three small children in Leesburg, VA and resides in Frederick, MD. She lives the nanny life by being a moderator for a popular Facebook nanny group, an Associate Editor for Nanny Magazine, and by sharing her own personal nanny journey through an online Facebook page titled Nanny Chelle. Chelle is so humbled to spend her days as a positive advocate for the nanny community!