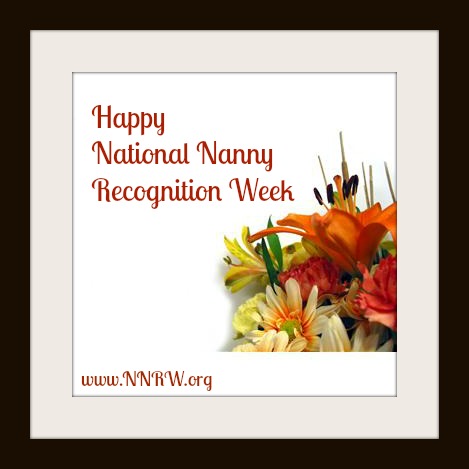 National Nanny Recognition Week kicked of September 22.   Regarding Nannies gives nannies and the nanny community an opportunity to submit Notes of Appreciation that we share with our readers.   Each year we are touched by the outpouring of love, friendship and thanks we receive.   There are many people to thank in this industry, and we're honored to play a small part in NNRW.
Nanny Notes of Appreciation …
Happy NNRW to all of my fellow nannies. I have learned so much from my nanny community over the years but I wanted to send messages to just a few of them that are so dear to me and hope I don't leave any out. If I left you out, please know it was not intentional. Thirty years of nanny friends is a lot to remember 🙂
Happy NNRW
To some of my oldest and dearest friends in the industry: Marni Kent, Myrna Alphonse, Tonya Sacowicz, Michelle LaRowe Conover, Andrea Brocklesby, Deirdre Bellows, Karen Yatsko, Jenn Gay,Beth Lehmann, Tracey Chipps,Gael Ann Dow, Buffi Gentry, Shelly Buller, Amelia Georgiana, Kim Smith, Kim Peters, Row Smith,Becky Kavanagh,Greta Schraer, Marcia  Hall,Christy Ochs, Juliette Worley, Cynthia Wilkinson, Brandi Hylton Brewer. Anne Marie Stanley, Stacie Gebeke, Lisa McCormick (We have laughed together, cried together, grown together and empowered each other and I love you).All of my fellow Nannies of the Year are always an inspiration to me but your words of wisdom renewed my respect for each of you!
My favorite nanny of the year  and new friend JoAnne Barrow, and my other new friends Marly Driskell, and Susan Fordham,
my Nannies in Transition that are so special to me (Mallette, Cheryl, Ashley, Sara, Kimberly Ann, Tara, Tracy, Laura, Beth, Mary Lisa, Mary, Kathryn, Hayley, Lauren,Brittany, Beverly, Brooke and Kari,Angela, Donna, Bridget, Keyanna, Debra, Sherri, Denise and Claire and Virginia
Every single one of you who has clicked the like button or shared the Nanny Transitions page.
And especially to Alice and Kellie who kept Regarding Nannies going forward when I had to stop. Regarding Nannies will always be special to me and I have wonderful memories of building it with you. Those memories that were also built around building a friendship will always be a special time in my memory and heart.
Each and everyone of you, and each and everyone of you that I might have left out, have had such a tremendous impact on my life. I would never have made it in this industry without your encouragement, your support, your laughter,your willingness to be part of the solution, your listening ear, and your great advice.
Happy Happy NNRW
We've come a long way!
Glenda Propst
Dear Glenda: 
We are about to celebrate our 20th year together!  We are so very lucky that you came into our lives in 1993.  You nurture, teach, love, and guide our children (now young adults), and you provide them and us with valuable wisdom and advice.  You are our nanny, our household manager, our advisor, our friend, and most importantly, you are our family.  Thank you so very much for all you do for each of us.  Please know that we are so grateful.  
With appreciation and love, The Barnes Family 
I want to recognize Sarah Klink, who I met when she started Metro Atlanta Nannies almost 10 (!) years ago. Not only is she a terrific nanny who has always been ready to offer support, ideas, or a gentle kick in the pants to me or other nannies who ask for help, but she's also one of my best friends. I'm honored to have been carrying on her work with MAN for the last 5 or so years! ~Deborah Brown
I want to give a shout-out to the nearly 50 members of Metro Atlanta Nannies. This is a wonderful group of women from all walks of life. We bond over our shared career, and then we have the luxury of becoming friends. ~Deborah Brown
Happy NNRW to all the nannies in the US and beyond who take the time to work to present educational opportunities to their fellow nannies. Whether it's INA, Nannypalooza, National Nanny Training Day, or other events, the hours of work put into those events is appreciated so very much! ~Deborah Brown
Kasandra P. -you are a great nanny in so many ways, your loyalty to your NF is impeccable!  Keep up the great work E is soooo lucky to have you!
Amber D. – you are such an amazing person with an amazing heart! You are so good to the boys and they are super lucky to have you!
All my new nanny friends are amazing and unique in their own way and I'm so happy to have each of them in my life!
-Lindsey R.
Thank you to the the nannies who have been creating and maintaining resources for nannies for another year:  the Regarding Nannies team: Kellie, Glenda, Alice, Greta, creating new online nanny food for thought; Glenda for the much- needed Nanny Transitions;  Sue for the ever-growing and mammoth undertaking of Nannypalooza; Charlotte for maintaining Sue for Nannypalooza;  Lora for the Nanny Care Tribe and for the huge initiative of National Nanny Training Day and for the SPARK award and for Positive Discipline courses; and Lora and Sue together for provoking thought and discussion with Practically Perfect Podcasts!
Thank you to all of MAPN, the MA Alliance of Professional Nannies, for spearheading this years' NNTD in Boston, and then scrambling to reschedule and reorganize the whole thing for three weeks later when the Marathon Bomber lockdown caused us to cancel.  Susie, Erin, Chrissy, Susan, you rock!   And thank you for continuing to provide classes, dinner outings, and other resources for nannies in MA!
Thanks to all the nannies who sent well-wishes to us in Boston what was supposed to be our National Nanny Training Day!  I especially loved seeing the NNTD group photos with members holding artwork loving Boston!
A shout-out to the nannies of Nanny Care Tribe!  What a great group of caring, supportive, fun individuals!  I love our conversations!   And we have, without a doubt, the best moderator of any FB group…thank you, Lora, for keeping the Tribe safe, proactive, responsible, and vibrant!
Thanks to all who participated in the SPARK award process as nominees, voters, commenters, and supporters.  Your enthusiasm was heartwarming and inspiring.   And I'm still glowing from all the love that was directed at me!  Thank you to those who supported me!
I can't thank Lora Brawley enough for her constant support and friendship.  She's always there with a word of support or clarification when I need it. She helps keep me on the path I want to be on, and gives me resources for traveling it, all with humor and grace.  I couldn't have a better mentor or friend.
Gratefully,
Janice StClair
Jenn Djeterfann
  Without you, WorldWide Nannies wouldn't be possible. Your ideas for topics
  are endless and amazing, Thanks for being such a great list owner and friend. 
  Looking forward to visiting soon! ~Carli
April Krause and Maria Harrington
  I really appreciate all of the hard work you both put in to generate a local
  community. Its been great to meet more local nannies, and Im looking forward
  to celebrating with them and both of you all week long! ~Carli
Sue Downey and Lora Brawley
   A huge shout-out to my favorite podcasters! Thank you so much for starting 
   the Practically Perfect Podcast this year, it really brightens my week 🙂 ~Carli
Shannon ONeill 
  You've been amazingly strong during the past few months. I always
  appreciate your insight and value our friendship. ~Carli
Amber Donahue
   Looking forward to getting back in the gym with you! I always appreciate your
   (often inappropriate) sense of humor…. ~Carli
Gabriele Bennett
    Happy National Nanny Recognition Week! You've been a great friend for
    many years, I always enjoy our (far too infrequent!) get togethers. 🙂 ~Carli
Stephanie Doyle 
    Nanny business aside, I so appreciate the hard work you put into running
    the Healthy Living group. Our challenges mean the world to me, and I know
    its a lot of extra work for you. Thank you! ~Carli
Throughout the years, I have had the pleasure of having many mentors and friends who have helped guide me to more fully realize who I am professionally. These are people who have been caring, capable, and confidants.  They have never tried to put me in their box, but rather, have been able to help me more fully define what my own box looks like and gave consistent encouragement.
A mentor is not the same as a person you put on a pedestal and admire from below! A mentor is somebody who can instruct, and coach, and help you to become more fully yourself, somebody who helps you realize your dreams.
I have a long list of those that I admire and want to THANK. I do not want to leave anyone out as it is kind of like doing a speech at the Academy Awards
Thank you to Kathy Webb for all you have done for nannies. You have gone above and beyond what any person could do for the industry. To Glenda Propst for all your help with nanny transitions. You have been a rock to many. To Kellie Geres and Alice Shaffer for organizing and getting the word out on NNRW. To Sue Downey for her dedication of Nannypalooza and for her sidekick Charlotte Hilliker for all the support she gives. Thanks for doing such a great job Joanne Barrow as NOTY – love the local press you are getting! Thanks Lora Brawley for creating National Nanny Training Day. Thanks for the friendship Karen Yatsko, Bridget Donnelly Glasheen, Tara Lindsay, and many many more with a list too long to name!
Warmest regards,
XOXOXO
Beth L.
Happy National Nanny Recognition Week to Glenda Probst. You are such an amazing mentor and friend. You are truly a woman to look up to. I appreciate you daily!
Tracey
Thank you to the dedicated and active Nannies who have participated, volunteered, and helped promote TANG over the past 13 yrs. To those Nannies…your hard work was always noticed and appreciated. Happy NNRW and much future success!
Tracey
Happy NNRW to Alice Shaffer who never fails to inspire and uplift me. Welcome home to NC!
Tracey
Wishing love and Happy NNRW shout outs to Kathy Harrison Webb whose generosity and expertise has touched Nannies across our nation!
Tracey
Most sincere NNRW wishes to Sue Downey and Charlotte Hillaker….I love you so much!
Tracey
Tara Lindsey…you rock in the inspiration department both within the Nanny industry and other areas of your life. I've learned so much from you!
Tracey
Lora Brawley…NNRW wishes are hardly enough to cover how I feel about you!!! Thank you always for support, advice, and encouragement!
Tracey
I would like to thank Sue Downey for all her hard work in making Nannypalooza so awesome and for everything that she does in the nanny world. ~ Leah
Thank you to Kellies Geres & Alice Shaffer for all your work with Regarding Nannies and all the other parts you play in the nanny world (ADCAN, INA). ~ Leah
To Michele Whitesides thanks for being my nanny in crime!  Our playdates are the best!  Without you I woud never know how amazing the organized nanny world is! ~ Leah
Happy NNRW to Melissa Doran, Taylor Augustine, Joanne Garrelts, Sue Krzos, Hayley Smith, Deb Phiri. ~ Leah
The HomeWork Solutions' family is really proud to be part of this amazing community of Nanny Professionals dedicated to making a difference in a child's life.  We see passion and commitment in each and every one of you.  Educating yourselves so that you can help mold our children into better human beings really makes a difference!!
This shout out is to all nannies out there … You guys rock!!
I would like to shout out to all those nannies who have made the commitment and attended Nannypalooza. Thanks for helping to build such a strong, vibrant community.
I would like to shout out a HUGE thanks to Kathy Webb and HomeWork Solutions. Kathy is always there when I need her and is very supportive of nannies and the nanny profession.
I would like to shout out a big thanks to Lora Brawley for being my partner in crime for so many projects. We don't always agree, but I know I can count on you for an honest opinion and a fresh perspective.
Thanks to all the businesses that support nanny training- including Regarding Nannies!! It is only by lifting each other up that we elevate nanny care in this country!!
~ Sue Downey
Happy National Nanny Recognition Day to all my fellow Metro Detroit Nannies-April
Maria-Have a wonderful NNRW!  Thanks for always being there when I need you!-April
Carli-Have a wonderful NNRW!  Thanks for being a wonderful friend and a great nanny!-April
Shannon-Hope you have a wonderful NNRW! You are a wonderful nanny and will find a wonderful family!-April
Amber-The boys are lucky to have you.  And I am lucky to call you my friend!  Have a wonderful NNRW!-April
Bridget-I am so glad we are friends even if we live far from each other!  Have a wonderful NNRW!-April
Michigan Nannies- It is a huge pleasure connecting with you daily for support, advice, and to share in your highs and lows! I recognize you all for the amazing work you do!
Tara Lindsay- Happy NNRW! I'm recognizing one of my greatest nanny friends, and most of all mentor!Knowing I've got you for advice, is the best resource in this business! Thank you for always being there, and being the fearless leader you are in our group!
Candice Kovach- Thank you for being such an amazing friend! I know your family is hard to care for, but I want you to know I'm here to support you!
L is a better kiddo because of you!
~ Kris G
April K.
Your an amazing nanny I am so glad we became friends. I truly count you as one of my best friends and I don't know where I would be without you! Have an amazing N.N.R.W. and METRO DETROIT NANNIES Rock! -Maria- 
Shannon O.
Your an awesome nanny and I am so impressed by your Determination and dedication to fitness and healthy eating you inspire me. I miss working out together. Have an awesome N.N.R.W. P.S. you rock! -Maria- 
Amber D.
You are truly a superhero nanny I can't believe you are able to work and go to school at the same time. I love hanging out and getting to know you more this year. Have a great N.N.R.W.  -Maria-
Carli L.
I am so glad we finally met up and became friends. Whether we are talking about crazy people or what to do in case a zombie attacks you can always make me laugh. Your a awesome nanny and happy nanniversary and have a great N.N.R.W. -Maria-
Petra O.
Your a rock star nanny. I am glad we are friends and I wish you only the best.
I always have a great time when we go out.  Have a great N.N.R.W. -Maria-
Ruth B. 
I miss you and can't wait for you to come back home. Your an awesome nanny and you really put your heart into everything you do, I am glad you found someone that makes you so happy. Have an awesome N.N.R.W and don't forget to check your mail. -Maria- 
Ruth B. Happy N.N.R.W. I am so lucky to call you my friend! Your a great nanny!! -April-
Lena- Happy N.N.R.W. Its wonderful to have an agency and nanny like you here. You really care about your nannies. Thanks for all you are doing for the community. We are lucky to call you are friend. April & Maria  
 Jennifer, Whitney, Chelle, Jaynie, and Mallory (Nanny Mag) 
 You ladies are all doing a great job. I can't believe within a few short months it will finally be here. Great job on all your hard work and dedication, can't wait to finally meet everyone. -Maria
Janice St. Clair…you have always been, and continue to be, a peaceful voice of wisdom.  The advice and support you give is all the more meaningful knowing the thought and care with which you give it.  Your friendship is a gift, and I am grateful for it.  ~Tara
Candice K., Kristin G., and Jessie R., what a team!  You ladies keep our group going, you keep me sane, and you never fail to make me proud to be your friend.  You are exceptional nannies, and even more exceptional friends!  ~Tara
Shout out to the Michigan Nannies!
Sue Downey…thank you for continuing to put Nannypalooza together each year.  We are all better nannies because of YOUR hard work and dedication!  And thanks to Charlotte, for supporting that work (and for random, inappropriate midday text messaging…)
Tammi Vogel…thank you for sharing your little Warrior Princess with us.  Your dedication to her family is a shining example of what being a nanny fully means.
For 18 years I have been privileged to be a part of the nanny industry.  I started my career off in Chapel Hill, NC in 1995 and then moved to the DC area for the past 17years.  I am moving back to NC next week where my career started, a month short of being here 17 years.  It is very bittersweet.  I hope to come back to the DC area shortly. There are so many wonderful memories and connections here.  I want to thank ADCAN and all the members I have met over the past 17 years.  I am not sure what type of nanny I would be today without the wonderful in person networking and support of ADCAN.    The same goes to those who were involved with  the National Association of Nannies (INA), the members past and present of the International Nanny Association (INA), those who I met at the various Nannypaloozas and those on the various yahoo groups and AOL chat rooms where the nanny industry really got its start in social media.   I am thankful to Mary Clurman and Judi Merlin for birthing the idea of NNRW. I remember that day we all stood at the Capitol in Washington DC, what wonderful memories.
I am most thankfully for the birth of Regarding Nannies back in 2009 with Kellie Geres and Glenda Propst.  Greta Schraer who joined us as well.  The past four years have been amazing and I completely proud of how we have maintained the steady course in the nanny industry.
There really is no way to reach out to everyone who I have met over the past 18 years who has taught me something, inspired me, thanked me for something or just shared their belief in me and what I am doing for the nanny industry locally and nationally.
With that said, thank you to everyone on every level of the nanny industry. Remember we are each here because of each other and must work together to strengthen the industry and its members.
Alice Shaffer
I would like to thank a few Nannies.  Glenda – who stood by me while my mom was sick. She was there every minute for me. Her kind words and just being there helped me get through this most difficult time. Thanks Glenda. You are a true friend.
Mallette Parry – she has been there for me also through thick and thin. She calls me just to say Hi and always has a comforting word to say. She has been a mentor to me while I search for a job. She listens and offers some helpful advice. Thanks Mallette you are a true friend.
Lauren Gaudet -She has helped me in my job search and is always there when I am driving home from an interview. She is always there to offer great advice. Thanks Lauren.
To all the Nannies who have helped me get through these last few years with my moms sickness. I am sending a big hug.
Anne-Marie Stanley
So many nannies to thank … to the first, Ms Karin Brown for showing me what a true professional nanny is, and for paving the way for future nannies and nanny support groups.   Thank you for more than you will ever know. 
To my BFF, Karen Yatsko – my partner in crime, scrapbook buddy, and maybe the only person who truly gets me and still loves me – snoring and all.   Thank you for being my friend, for sharing your family with me and keeping my secrets.   Here's to really good wine, margarita's, road trips and letting the girls out to have some fun! 
To Glenda for having a vision and allowing me to come along for the ride.   When you asked me to be part of Regarding Nannies I was honored to be part of something that I had no idea what it would become what it is today.  With that we built a friendship that has seen some great highs and terrible lows.  Thank you for being a friend and mentor that I aspire to be Just Like G.  
To Alice for being my partner on Regarding Nannies, for being by technical guru and for our working weekends.  Best to you as you start the next chapter.  
To Barbara Kline @ White House Nannies – thank you for finding me the best job in DC. 
To Deb Phiri – I treasure our friendship and Thank you for all you do for ADCAN.  I'm so happy that you found a fabulous job – E is so lucky to have you! 
Suzanne H – Sorry we can't celebrate your birthday together this year.  You're a great friend, and any time with you is cause to celebrate! 
Angela Jackson – thanks for introducing me to the Squirrels and for helping with all our projects!  
To the members of ADCAN – You Rock!   You all set the bar high for great nannies, and I'm proud to be an ADCAN Nanny! 
To my friends, colleagues near and far – thank you for your support, your friendship and the sisterhood of nannies.   Know that I appreciate all of you.  
Kellie