I'm rerunning one of my favorite posts on Ways to Give without Spending any Money.  With this a season of thanks, make sure and think outside the box in ways you can give back to family, friends, and those in need.
Volunteer in honor of a friend or loved one who's past away at a shelter, food pantry or church.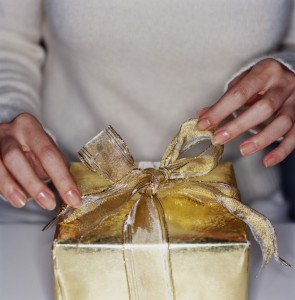 Offer to babysit for a friend or family member so they can have a date night, run errands or just have some time to themselves.
Offer to do yard work, shovel snow or pick up groceries for an elderly neighbor, ill friend or loved one.
Bake treats or put together a meal for a friend.
Do you sew or knit?  Make items for a local shelter or for friends and family to give as treasured gifts.
Gather friends and family together and sing carols at a nursing home, or go door to door among your neighbors.
Host a dinner for family and friends that may be alone for the holidays and have everyone bring a dish to share.
Do you have a special skill?  Computers, photography, chef?   Offer to teach someone a few lessons as a gift.
Regift! Admit it, we all have them.  I have a big bin I keep all my gifts in for the perfect opportunity.
Do you scrapbook?  Take all your supplies and make handmade note cards to give as gifts.
What is your favorite way to give during the holidays without spending money?
By Kellie Geres 
Regarding Nannies Development Team