Our post today comes from our archives back in May 2011, but the information is still useful today.   
Cheap Water Fun
By: Greta Schraer
I am sure as a nanny you have felt the responsibility to create new, fun, experiences that offer fun times for kids, while teaching them skills. About 12 years ago, I worked with a family of three children. We spent a lot of time outdoors at their house, but with a baby on a strict nap schedule the 8 year old, 12 year old, and I found ourselves creating games in and around the house. One day M, the 8 year old, asked to wash my car. I was kinda surprised at the request, but it was a nice day and I said, "yeah, let's do it". So we gathered a bucket, soap, sponges, the hose, and towels. The kids and I put our swimsuits on and had a blast making a mess getting my car clean. This began years of cleaning my car with many kids in different families.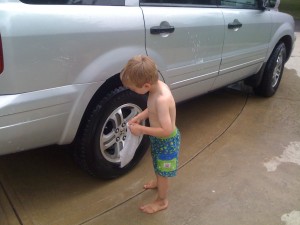 Last summer on a day we were stuck at home, but wanted to be outside! I decided the boys, then 3, were ready to for the car wash fun! It turned out to be a very fun, successful way to teach skills, and allow them to follow directions.
Here are some points that I would make about our Cheap Water Fun:
Give the event some planning, especially with younger kids
Have steps to the event
Use safe tools – for safety of your car and the kids
Have enough tools for each child
Manage the water to not be wasteful
Teach by example
Leave the hose until the end
The boys were so excited to be allowed to "play" with my car. We talked about how it was dirty and we can clean it with soap and water, just like we do our hands. I did bring the hose out only at the end, to wash all the suds and gave them each a turn. I waited because I didn't want a soaked yard or the waste the families water. It worked pretty well, since they didn't know any different. Since then, the often ask to wash my car, only 2nd to the real car wash, of course.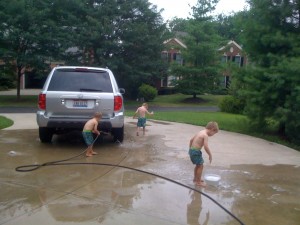 On a hot summer day, a little water can go a long way! What other cheap fun have you created to cool off in the summer!? We would love to hear YOUR tips!
Special thanks to HTN and for sharing their backs in these pics!