Thanks to Tracey Chipps for this great article and the added photos! 
October has passed and we missed giving a shout out to KALE!  October was National KALE Month!!!!
 "I don't like kale."
 "It's  green and doesn't smell like bacon."  <insert whiney voice> "Can I cover my kale in chocolate?" Oh sigh!
Perhaps after reading this article and learning the health benefits and fun and flavorful ideas for kale you will be willing to give this leafy green a shot.
Kale…it's not like your grandmothers bowl of bitter covered in vinegar. The options with delicious kale recipes are endless! Why make such an effort to like something you detest? The answer is simple! The health benefits of kale are quite simply…..ah-mazing! Read on to be blown away by this easily accessible food…
Kale is a powerful antioxidant and high in Vitamin A and magnesium. Kale is also high in Vitamin C and K and is considered a detox food. Shall I go on? Kale is high in calcium. Per calorie, kale has more calcium than MILK! Milk ya'll!!
 Your liver, skin, vision, and more can become healthier by incorporating kale into your menu. Tell me who doesn't want more beautiful skin? Kale is simply INCREDIBLE as it is believed to work in preventing lung cancer….other types of cancers too!
Kale is an anti-inflammatory which can improve many types of health conditions. Kale can help with asthma….hello!!!! Did you read that? Asthma. How many people do we know with asthma?!
It's good for your heart and can help lower cholesterol. If arthritis runs in your family start "kaling up"! It is also known to help autoimmune disorders.  <—- that's huge!!
It's a no brainer that kale is good for your blood but did you know it's good for your bones too? It's October…Halloween! I, personally, want my skeleton looking strong and fine! ; )
Those suffering from Alzheimer's have been known to show improvement when kale is added to their diet. Isn't it worth a try for a loved one?
Are you iron deficient? Per calorie there is more iron in kale than beef. Let me repeat… There is more iron.in.kale. per calorie than BEEF!
"Let the cows moo while on kale you chew !" Okay, corny, but, you get the picture.
Kale is affordable and contains only 36 calories in an entire cup!
Here are some of my favorite ways to get kale into my diet on a regular basis. Experiment!
Kale Corn Muffins anyone? This is my employers favorite treat! Simply follow the directions on a package of Jiffy cornbread mix add chopped kale, bake and devour!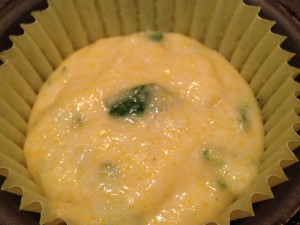 This whole grain linguine dish with kale is something I threw together without a recipe. It turned out fantastic. In a pan sauté onions, kale,and mushrooms. Add this mixture to boiled whole grain linguine and cover with your favorite red sauce. Picture perfect and delicious to boot! (Kale can easily be added to the layers of your favorite lasagna recipe. I make it for my employers often!)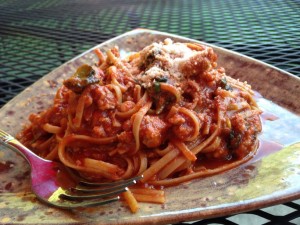 Kale is for kids too! Especially when it looks like a tree. My 3 yr old charge gobbled up these tree leaves! I have even put kale on his pizza and in grilled cheese sandwiches. Never a complaint!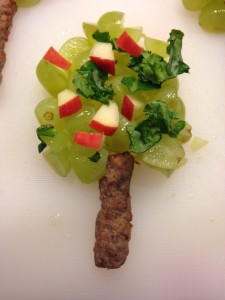 Nothing beats a kale salad! Choose your ingredients and your favorite dressing and wha-lah!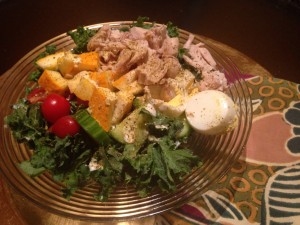 Let's not forget juicing! Each time I juice using kale I always include a whole apple. I add carrots, pineapple or any other combo but it's seems an apple is always the ingredient that makes drinking kale more pleasant.
Here's to every Nannies health!