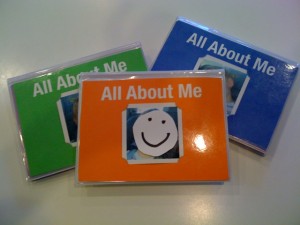 I love using practical ways to teach important skills. The boys are 3, and learning some of the basics in their life. I  came up with the idea to make a little photo book for each of them. I could read it with them initially, then they would be able to take the cues from each page and read it to themselves.
All About Me Book
By: Greta Schraer
Supplies Needed:
Empty photo books
Laminating sheets
Scissors
List of goals, milestones, and interests
Computer to print pictures and page inserts
First I purchased inexpensive picture books. I have seen these a the dollar store before, but found mine at Big Lots for $2 a piece. I gathered the supplies needed and printed covers with the kids' pictures on the front. I used laminating paper as a cohesive to create the front and back personal covers of the book.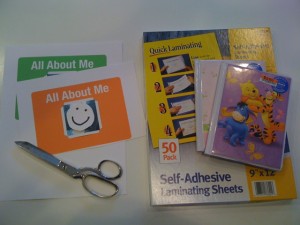 I decided that the inside of the books would be things about the boys that they already know, as well as, things that the should be learning. I have been asking them their favorites (which change by the day), then take pictures of that item and add the word. These simple bold words will help their pre-reading skills. For example "My City is Cincinnati" has the downtown skyline  and the boys' address is with a picture of their house.
For older children, they can be a lot more involved. Think of cutting out pictures from a magazine coinciding with age-appropriate questions. Another idea would be to give a child a camera and let them take pictures of their favorite things.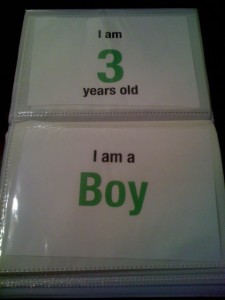 Here are some ideas I have for the 3 year old triplets:
Full Name
Birthday
Age
Address
City
School
Teacher
Phone Number
Pet
Family
We also chose favorites:
Park
Restaurant
Play
Food
Drink
Nursery Rhyme
Book
Vehicle
Animal
Color
Song
Blanket
Toy
Instrument
Show/Movie
I love that the photo books can be updated as a fact changes or is mastered, but, if you would like to make one book each year like a child's scrapbook, think about adding to the name… "All About Me, When I was 3."
Have fun!