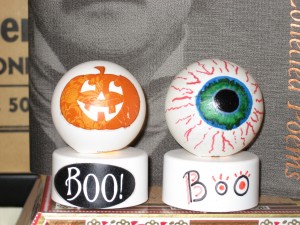 My sister pj is an artist. When I say she is an artist, I don't mean that she paints, I mean that she can take a piece of copper and create beautiful jewelry. She can take a rubber stamp and make it look like a painting, she creates everywhere in her home. Her walls, windows, furniture and every surface in her home is an extension of her creativity. She used to travel around the country and teach art classes at different studios but now she has found a new obsession because now she is a Grandmother.
Her grandkids (She has 5) call her "Grandy" and every Tuesday she picks the older ones up after school and they do art projects. Her daughter is also an artist and her daughter in law is an artist as well so all the kids love the projects they do with Grandy.
I had my post for today finished weeks ago but when I went to my sisters and saw these fun little Halloween lights yesterday, I knew I had to share them here.
This project is quick and easy and fun for Halloween but if you use a little creativity you could adapt them  for other seasons as well.
You will need:
Ping Pong Balls (I have actually seen these in the grocery store but a sports store or even Target probably carries them)
Battery operated Tea Lights (At this time of year you can find them at Sam's and Costco in bulk for a great price)
Permanent Markers or Halloween Rub Ons (any craft store)
Use an exacto knife to cut an x in the bottom of the ping pong ball
Decorate the ping pong ball with permanent markers or follow package directions to use the Halloween rub ons.
You might have to experiment to find the best way to keep the ping pong ball steady while you decorate it. When you are finished decorating the ball, just pop it on top of the tea light and turn the tea light on. You have a fun and decorative Halloween decoration.

If you decide to do this project we would love to see how they turned out. Email us your pictures!