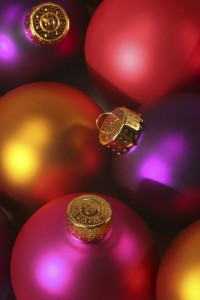 NANNY SUPPORT GROUP EVENT IDEA
Post-Holiday Party and Yankee Swap
BANSG, the Boston Area Nanny Support Group, tried holding winter holiday parties in December, but they were not well attended and it seemed counterproductive to add another social obligation when people were being pulled in all directions to prepare for the holidays and to attend numerous other parties. The whirlwind of celebration abruptly ends in January, and many people I know feet a let-down. I hit on the idea of holding no nanny events in November and December and then having a last party in mid-to-late January to ease nannies out of the holiday celebrations. It was a big hit! We've done it every year since, and it's always a well-loved and well-attended event.
The way we do it is to hold a pot-luck lunch and have a Yankee Swap. I've found that the third Saturday in January allows time for people to rest up and be ready to have fun again.
Wikipedia and EHow describe variants on Yankee Swap. My announcement gives a ballpark dollar amount the gift should be worth (usually $10-20, an amount anyone can manage), and invites nannies to wrap and bring a gift they received but did not want, a handmade item, or a bargain they scored during after-holiday shopping, or just something that a nanny would enjoy receiving as a gift. I always bring 1-2 extra gifts in case someone comes to the party without realizing they needed to bring a gift.
We begin by playing an ice-breaker party game, such as Celebrities, which involves using post-it-sized notes paper-clipped to shirts just under people's chins (because the glue will not hold). Each post-it has a famous person or well-known character's name written in bold marker. (Everyone of every age needs to be able to succeed, so think Abraham Lincoln, Kermit the Frog, Peter Rabbit, and other well-known names.) The goal is to guess who you are by asking yes-no questions to the group. As long as the answer to your question is "yes", you can keep asking questions, but as soon as your answer is "no", the player to your left can begin asking questions about her identity. The person who has pre-written all these tags needs to bring extra blank ones so players can make up one for her. Play ends when everyone has guessed who they are, and toward the end we do give broader and broader hints to anyone having trouble.
For the Yankee Swap, we write numbers on scraps of paper for as many people as are there, and everyone pulls a number from a hat. The lowest number goes first, selects a gift from the pile, and unwraps it for all to see. Number two can choose to steal that gift, or to select and unwrap one from the pile. Number three can steal either of the two unwrapped gifts or select one from the pile. Anyone whose gift is stolen immediately selects and unwraps a new gift from the pile. At the end, Number One has the option to keep the gift she has or to steal from someone and give that person the gift she has. (Otherwise, she would be the only person who hadn't had the option to trade.)
We hold this event at our usual meeting space, a free meeting room at the public library where we are allowed to have food. Usually 10-20 nannies attend, but since the local well-attended and exciting Nannypalooza was so recent there may be double that amount this year.
I try to plan events that are manageable for me and for the participants in cost and preparation. Hence the pot-luck lunch where everyone brings enough to share with 6-8 people. I do pot-lucks a lot, so I have a bag of supplies that I bring each time: Paper plates, plastic cups and cutlery, napkins and paper towels, serving bowls from the dollar store for chips, and some plastic bags for packing up leftovers. Pack a knife for slicing cheese or cake. I like to give notice in Nov. or Dec. so people can plan their gift, but as long as people know by Christmas they can plan to pick up a bargain during post-Christmas shopping. And remind people at least 2 weeks before the party, and ask what they plan to bring for the pot luck. Make sure someone or two some ones bring beverages, and that there is a balance of lunch food and desserts, by having people RSVP and tell you what category their food will be in. My personal splurge for the event is for a rich chocolate dessert.
That's it! Have fun!