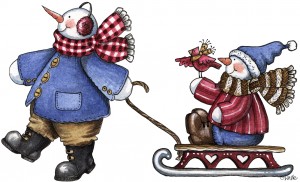 The Holidays are over and the new year is off to a running start. We have a lot of exciting things planned this year on Regarding Nannies. We will continue with Kellie's series "Anatomy of a Work Agreement" ,Greta's series "Nanny 101" , Alice will continue to save you money with her "Financial Friday" and next week I will be starting a new series "Stepping Stones to Employment"
Thank you for your continued support and encouragement and remember we love to hear from  you, we love to read your comments and most of all we love for you to tell us what you want to read or write about!
In case you missed something this week here is our Weekend Round Up.
Monday Moxie: Becky Kavanagh shared some interesting information about Gender Characteristics.
Tuesday Tips:  Dawn Hong gave us some tips on how to Organize the Playroom.
Creative Nanny Wednesday: Becky Kavanagh wrote about Winter Activities for Outside
Table Talk Thursday: Jan St. Clair told us about a wonderful book to use with school age children
Financial Friday: Alice reminded us that there are some tax changes we need to be sure our employers know about for 2011.
Next week we will kick off our new series on "Stepping Stones to Employment" and Nanny Gael Ann will be sharing her Smilebox of "Inside Winter Activities"