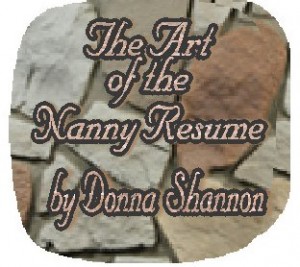 One of the most important aspects of any job search is your resume and seeking a job as a professional nanny is no different. The first thing you need to do is start working to get your resume updated. As professionals it is smart to keep our resumes up to date. This is a great thing to do every January, that way if something happens and you need to launch a job search you don't have to panic about updating your resume.
Seeking a job in the private sector presents a unique set of circumstances. You can read books and articles about employment but most of them have to be adapted to you or your circumstance. We will kick this series off with a 3 part series of articles from Donna Shannon, the author of "Get a Job Without Going Crazy" Donna has experience specific to the private employment sector so her advice is specific to the nanny profession.
Whether you are in the process of seeking employment now or plan to seek employment in the future, you don't want to miss the valuable information that she is sharing with our Regarding Nannies readers.
The Art of the Nanny Resume –
Part 1: Your Personal Profile by Donna Shannon
While similar in form and function to a corporate-style resume, the professional nanny resume features something rarely seen in the business world: heart.  After all, how can you explain your love of children and your work without showing your heart?  One of the best ways to do this is with a Personal Profile.
Some people may call it a biography, personal statement or personal essay, but the purpose is the same: give the future employers a feel for who you are as a person.  Private service employers want to know some personal information about you, as well as your own style and personality.  It helps them determine if you would be a good fit for the house or not.
Personal profiles belong in your resume, usually right after your contact information.  The statement can be as short as two or three sentences, or as long as a page.  I usually recommend about three paragraphs, taking no more than half a page. Your profile should always address these three key areas:
Your background
Your personal style
Your passion statement
1. Your background
While you don't need to give a complete biography of your entire life, employers do want to know something about your background.  This can include where you grew up, where you went to school and some insight into your career path.  Remember, your work history will go into the details, so your profile just needs to address the most influential events on your life.  Most importantly, include a reason of why you chose to be a nanny, or the moment when you knew that you wanted to work closely with children.  It can either be a story or a personal statement.
2. Your personal style:
Think about what is the most important thing that you offer to your employers.  Is it peace of mind, knowing that their children are receiving excellent care?  Is it engaging educational programs that you design for the children?  Is it a specialty, such as newborn care or special needs children? Or is it helping the children develop personal responsibility?  Are you the "calm in the storm," bringing a clear head to any situation?  Be honest with yourself and explore your unique talents.
3. Your passion statement
The most important part of your personal profile is your passion statement.  Within two or three sentences, tell us what you love about your job.  Do you find it personally rewarding, and if so, why?  Why do you devote yourself to children?  What do you hope to accomplish in the future?  A strong passion statement lets me know that you are the right person to care for my children, because of the love that is already there.
Overall, the personal profile gives me a clear picture of who you are.  This is critical in private service, because employers want to hire a person, not just a skill set.  That is the difference between a dedicated, professional nanny and a day care center – the dedicated love and care that can't exist without your passion.
NEXT – Skills That Matter
About the Author
Donna Shannon, a former recruiter and president of Coyote Visions, helps job seekers land their dream jobs with practical advice and guidance. She is one of the few resume writers in the United States that offers comprehensive private service resumes. Her book, "Get a Job Without Going Crazy," is available on Amazon.com