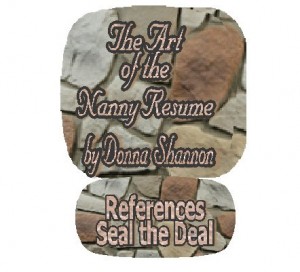 by Donna Shannon
More than any other industry, private service relies heavily on references.  After all, people are entrusting their children to your care, and they want to make sure that you are as wonderful as your resume says.  But what is the best way to present your references?
The Reference List
The first step is a solid and concise reference list.  This can be the last page of your resume or a separate document.  On the list, it is important to capture the following information:
Name of the reference
City, State
Phone number and/or email address
How they know you (personal, professional, past employer or past co-worker)
Length of employment or how long they have known you
Notice that it is important to have personal or character references in additional to your professional ones.  These help with questions about your demeanor, nature and personality while also showing stability.
In addition to the basic list, you can include a brief quote from the letter of recommendation.  For example:
Ms. Amy Smith
Denver, CO
303-555-5555 / asmith@fakeemail.com
"Jody was a wonderful nanny, and the children loved her very much.  It seemed like every day she had an exciting, new learning opportunity…"
It is important to list the contact information on your reference list, and make sure that you call your contacts to make sure they are OK with giving out their phone number.  Agencies do call your references to verify information, even if they have the complete letter of recommendation.  Plus, when you can your past employers, you can also ask if they know of anyone who needs a nanny.  This can lead to a new job opportunity!
Letters of Recommendation
Letters can add a lot to your professional portfolio.  However, sometimes an employer is not sure what to put on the letter.  Here are some guidelines for the letter of recommendation:
Family name and location
Dates of employment
Ages and number of children
Special projects you did for the family or a special activity with the children
Reason for leaving
If they would hire you again
A letter on letterhead – even if it is just the family's name and address at the top of the page – is always better than a quick paragraph typed onto a plain document. Seeing someone else's signature on family letterhead gives tons of credibility to your portfolio.  The more professional the presentation, the better it reflects on you.  And that is the whole purpose of the letter of recommendation.
About the Author
Donna Shannon, a former recruiter and president of Coyote Visions, helps job seekers land their dream jobs with practical advice and guidance. She is one of the few resume writers in the United States that offers comprehensive private service resumes. Her book, "Get a Job Without Going Crazy," is available on Amazon.com
For your convenience here are the links to the other 3 articles from Donna Shannon.
The book winner will be announced on the Weekend Round Up.