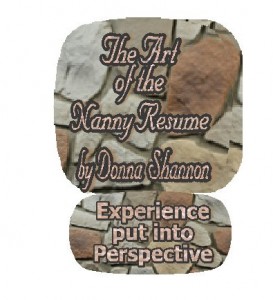 The Art of the Nanny Resume -by Donna Shannon
Part 3: Experience Put Into Perspective
For employers, experience is one of the most important parts of the resume.  Just consider how many agencies require at least 2 – 5 years of experience before they will consider a candidate; experience is one of the biggest criteria, especially for nannies.
When it comes to resumes, combining your skills section with a detailed experience section can make for very long resumes.  This is especially true for nannies, when it is common to stay with a family for 3 – 5 years.  One solution is to only list what made each job unique.
Rather than packing your work history with repeating information, create a solid skill set and refer back to it within each job.  Here is a sample work history snippet showing this technique:
Nanny
The Moore Household, Denver, CO         2008 – Present
Cared for two girls, ages 3 and 4.
Handled typical nanny duties as listed above, plus created unique, age-appropriate lesson plans on a weekly basis. Planned weekly outings throughout the metro area.
Nanny
The Smith Household, Denver, CO          2004 – 2008
Cared for three children: newborn boy, two-year old girl and four-year-old boy.
Handled typical nanny duties as listed above, in addition to preparing all of the children's meals.  Prepared older children for school by encouraging reading skills.  Created learning games for mathematical concepts.  Helped youngest child manage asthma.
In this example, "handled typical nanny duties" alleviates the need to go through an exhaustive – and boring – list of all of your daily functions.  This allows you the freedom to show how you adapted to each new family situation.
Factors to Consider
When thinking about what made each job unique, consider these factors:
Age, sex and number of children
Special needs
Special activities planned
Size of the home (especially if you helped with the house)
Children's favorite activities
Additional locations, especially if you traveled with the family
Family's values, such as responsibility or religion and how you helped the children learn these life lessons
Additional duties not listed in your skill set
Getting stuck on how to describe your past experience?  Take a moment, close your eyes and remember the children – their unique traits will help you remember exactly what you did for each and every famil
NEXT – References Seal the Deal
About the Author
Donna Shannon, a former recruiter and president of Coyote Visions, helps job seekers land their dream jobs with practical advice and guidance. She is one of the few resume writers in the United States that offers comprehensive private service resumes. Her book, "Get a Job Without Going Crazy," is available on Amazon.com
For your convenience here are the other 2 articles by Donna Shannon on the "Art of the Nanny Resume"
Don't forget to add your comments to any and all of the articles for a chance to win a copy of Donna Shannon's very informative book Get a Job Without Going Crazy
We will announce the winner on Saturday in our Weekend Round Up.