Regarding Nannies would like to congratulation AMY who is the recipient of the Books by Tara giveaway!
We took all of the comments and numbered them, put the number of comments in at Random.org and Amy's (number 11) comment was our winner! Thank you to all who participated.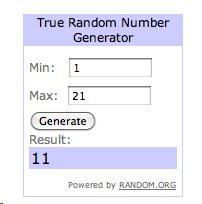 Monday Moxie Anatomy of a Work Agreement Part 5
Tuesday Tips Stain Removal Tips
Wednesday Creative Nanny Footprint Penguin
Thursday Table Talk Meet Nanny April
Financial Friday Wasted Time and Wasted Money……….or is it?
Next week on Regarding Nannies we will have Part 3 and Part 4 of "The Art of the Nanny Resume" by Donna Shannon. We will be giving away a copy of Donna Shannon's book " Get a Job Without Going Crazy"
You will need to leave a comment on any of the posts from Donna Shannon to be entered.
Also coming up next week: Greta will share some more of her "Favorite Things" and Nanny Gael Ann will have another one of her wonderful Smilebox Creations with Valentine's Day ideas!
You really don't want to miss a day, but remember, if you do miss a day, we always have our Weekend Round so you can catch up!