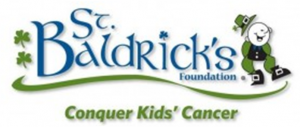 by: Cassandra (Cassie) Fricke
The driving message of an organization by the name of the Saint Baldrick's Foundation is:  "Each year, 160,000 children are diagnosed with cancer worldwide.  Cancer is the number one disease killer of children in the U.S. and Canada.  To put it simply, 1 in every 5 children diagnosed with cancer will not survive and this is unacceptable!"  In March of this year, I decided to do something about it; I went head on with the clippers and got buzzed!
St. Baldrick's is a nonprofit organization devoted to childhood cancer research.  They host events annually throughout the entire United States (and in seven other countries) in which participants find sponsors to donate to the organization in return for shaving his/her hair at an event.  If one is unable to attend an event in an area or there is no event in an area, there is the "virtual shavee" option!  They create a page, post their own before and after pictures, and their own personal event details.
I have several reasons for participating, however the three top reasons for my participation are people I know or have known to suffer with this terrible disease.
My mother's closest friend, Kit Tierney, battled cancer and was hospitalized for some time due to the severity of the disease.  After an initial misdiagnosis and treatment for Hodgkins Disease, Kit sought out a new hospital and oncologist.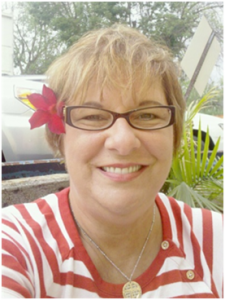 There she underwent a stem cell treatment after high dose chemotherapy for Non-Hodgkins Lymphoma stage 3B: at this stage the cancer had metastasized to major organs and is almost always fatal.  The majority of Kit's hospital stays and darkest, most frightening moments occurred throughout the course of these treatments, which also included a 30 day quarantine! "During my long and depressing days as an inpatient, I found comfort in talking to others about surviving skills, family support, and when most depressed or scared, [often feeling sorry for myself] I would take a trip up the elevator to the Pediatrics Floor, and visit the little Chemo-heads, seeing all the hope they held, and smiles bigger than their faces, was the greatest inspiration for me. I would hold their hands, speak to them about my children, and allow them to tell me anything they wanted to talk about. Sometimes, we would get the urge to puke at the same time, and leave each other laughing about the effects the medicine would bring on. Mouth sores really sucked, and so we would draw lollipops on paper as a way to pretend "stash" these away until we could really enjoy them, when better. We laughed, colored, played cards, assembled easy puzzles, and just goofed off. Just to see these little people with so much Faith and Hope to survive with the utmost innocence within. Such amazing inspiration kids can be if we look past our own needs and problems, it is not hard to spot. Furthermore, their trust is so strong, win-win for many."
The chemotherapy and stem cell treatment were a success and Kit is now a 13 year Non-Hodgkins Lymphoma Survivor!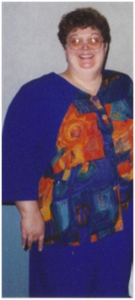 Barbara LeMere, my aunt, passed away from stage 4 lung cancer as she and Uncle Dick were in the process of planning a well deserved early retirement.  She had visited the doctor with complaints of feeling ill, however was also sadly misdiagnosed.  The discovery of her true illness was brought to light when she began to cough up blood after moving some items from Texas to Arkansas into the new retirement home.  She went directly back in to be seen again.  At that point Barb was told she had 3 months to live.  My mother, Lois Meeuwsen, and I nearly braved the prospect of being bald in support for Aunt Barb in her suffering those last few months. She had worked as a personal secretary for an Air Force Judge Colonel and after her passing, a building dedication for a new courthouse was given in her honor.  At this event, Jordyn Andrews, Barbara's granddaughter, only a small child at the time, told the Colonel's wife, "Nobody loves my grandma more than my grandpa and me."  My aunt was a kind, gentle hearted, joyful, and generous woman who is greatly missed.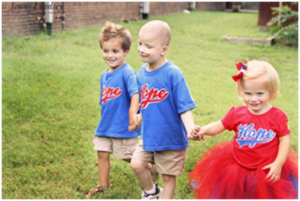 Alex Kallas is a child of friends of the family that I had the privilege to meet in the fall of 2009.  After several stressful attempts to conceive, his parents found the joy of parenthood through adopting Alex from Russia.  However, shortly after bringing him to his new home in Tennessee, they noticed that something simply wasn't quite right.  Through several medical visits and tests, it was determined that Alex is a child of Autism.  His parents took the news most would be devastated by with optimism and began the process of taking up new techniques in all areas of life to properly raise him.  They were also shocked when they became pregnant not once but twice after becoming parents to Alex!  They now not only had one new child to love and care for; they had three, all within three years!  Only a short time passed between meeting Alex myself and the detection of his cancer.  The news was obviously devastating to all who knew this wonderful, caring family. "Alex was diagnosed with Stage 3 High Risk Neuroblastoma (N-Myc Amplified)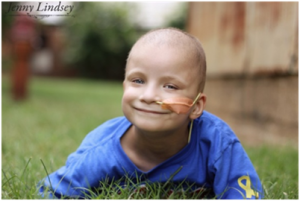 on November 20, 2009 and given a 20-30% chance of survival (for 5 years). He has been through months of inpatient chemotherapy, tumor resection surgery, stem cell transplant, 20 treatments of radiation, and he is currently in a 6 month antibody/accutane treatment (non-FDA approved). He still has active cancer inside of him, and we are hoping these treatments will get rid of it. In these pictures he has a feeding tube in place. His family has a medical fund set up at Regions Bank where anyone can donate to help with the costs of his treatment. It is set up under his mommy's name Andrea Kallas or under Alex Kallas. You can visit any location and drop of a donation." http://www.jennylindseyphotography.com/blog/?p=2423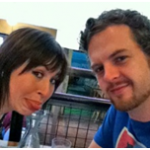 However, my good friend, Meghan Heft, is the one who found this particular nonprofit organization and contacted me about participating in it "together."  She is still in the area of Green Bay, Wisconsin (my home town).  Since I am currently living in the Sacramento area of California, it was something that we could both do to make a difference and yet still feel a sense of togetherness.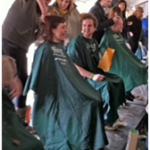 She has been personally affected by various family and friend encounters with cancer as well and felt very strongly for the cause!  We both believe that any research in a single given field of cancer will directly affect all domains of cancer.
When I spoke with my boyfriend, Peter Mazar, about
it, he was more than supportive!  He too decided to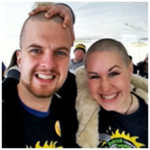 take the plunge and face the clippers!  His grandfather, also a sincerely magnificent, giving person, and an extremely important person in his life, has recently been through treatment for lung cancer which initially appeared to have been a relative success; recent information reveals that, unfortunately, throughout his treatment a heart condition he had has worsened to an inoperable state.  We have only a few months to enjoy his company, which we intend to take full advantage of! I did ask permission from the parents that I am employed by and to my surprise they not only thought it was a fantastic idea but expressed that they found me to be quite brave as well (both being quite frightened of the prospect themselves)!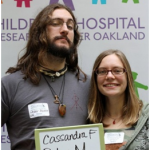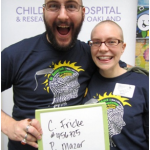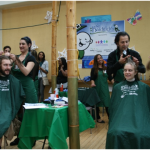 At the Oakland Children's Hospital, where the event Peter and I attended was held, we were escorted in by an encouraging troupe of our friends.  None of us expected quite the immense occasion which we found ourselves surrounded by!  I could not begin to guess at the number of people who were in attendance.  The entire affair was so well organized that Peter and I were whisked straight away to begin the process!  There were men, women, and children who all participated right along with us.  Age seemed to matter not!  The electric razor felt tremendously bizarre on my head as they shaved my hair, getting as much of it as possible to donate to Locks of Love.  The strange feeling of the razor was only the beginning of the new sensations we all would feel in the days, weeks, and months ahead!  The day happened to be a dreary, rainy one.  The chill as we walked outside was surprisingly refreshing as were the drops we felt on our scalps, the tiny rivers they created that flowed down and onto our faces!  We went directly to a hat shop with our entourage, where we acquired an impressive the collection of stylish, new accessories for our newly bald look.
Over the course of the next few weeks, I was astonished to notice the adults I frequently interacted with expressing a great deal more uncomfortable, nervous, even embarrassed reactions than the children!  I reflect upon that now and think myself silly for my initial stun.  Being a nanny, that should have been the ONE expectation throughout the entire course of becoming hairless!  I also found myself astonished by the sense of liberation I felt.  I found myself wondering at how odd it was that EVERYONE wasn't bald!  As my hair has been growing, so too has the experience: the responses received, figuring out how to manage the "dandy lion" tuft, the flood of new emotions and experiences.  It continues to be one of the best experiences I have ever had and would recommend it to any and all who would like to support the fight against cancer!  Our group of friends has decided to start a rotation of two or three people participating as shavees for the event, this way over the next several years our entire group will attend.
All of the proceeds go directly into cancer research, directing funds into the most important research to conquer children's cancer.  To create such a purposeful strategy required 16 of the top pediatric oncology researchers in the United States as well as the board and staff leaders of the St. Baldricks's Foundation to combine knowledge, opinion, and creativity at an event.  The first Research Priorities Summit was held in 2010 which was a two day event of vigorous discussion partially resulting in the addition of new funding categories!  In other words, the foundation does its utmost to make the most out of the funds in the best interest of saving the lives of the young ones this horrendous disease would otherwise steal.
St. Baldrick's 2011 progress report:
Total US $ raised – 25, 928, 235
Male shavees – 38, 532
Female shavees – 4, 955
Total shavees – 43, 487
Events – 975 St. Baldrick's Foundation 1333 South Mayflower Avenue, Suite 400, Monrovia, CA 91016 USA | P: (888) 899-BALD (2253) | F: (626) 584-6374 http://www.facebook.com/StBaldricksFoundation?ref=ts&sk=wall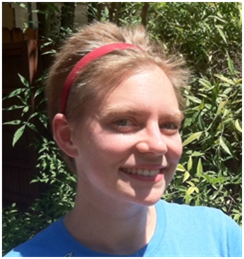 Cassandra (Cassie) Fricke is from the Green Bay area of Wisconsin and has been a nanny since being recruited by Mary Boyle of the Milwaukee, Wisconsin area Northshore Professional Nanny Agency in 2006.  She began helping family members with children at a young age and became a certified babysitter through YWCA before turning thirteen.  She has worked with young ones from newborn through 12 years of age and has personally experienced the challenges of working with children affected by deafness, blindness, anxiety disorders, and Autism.  She currently resides in Davis, California, working for a family with a two and a half year old boy.  She looks forward to expanding her professional nanny knowledge and network!