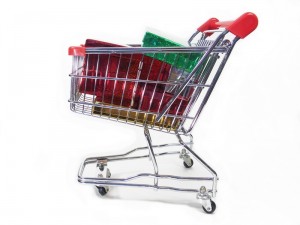 These days there is just not one time to do all your holiday shopping.  Traditional "Black Friday" has been invaded by Small Business Saturday, Cyber Monday and Free Shipping Day. As nannies, many of us help out with the shopping for our employers as well as our own personal shopping, so we are looking for awesome deals out there.
Black Friday dates back to the 1960's.  This year retailers are hoping to reach the "black" status on their books. Brad's Deals has a a great listing of the stores with their deals and scanned copies of their ads  for Black Friday.   You should check out the site and start your shopping list and compare prices.  Remember just because it is a "special/Black Friday" deal doesn't mean it is the best deal out there.  Make sure the product is what you need and has the appropriate hardware etc for electronics.
Then on Saturday November 26, 2011 make sure you visit Small Businesses to support them on Small Business Saturday. This is the second year for this event. It is sponsored by American Express Open to help support small businesses during the busiest shopping weekends of the year.
After you rest up on Sunday and go through all the bags you brought home, you will realize you forgot Aunt Susie and cousin Lenny. Well don't worry because Monday November 28, 2011 is CyberMonday!  What I love about CyberMonday is that you shop from the comfort of your house!  No dealing with lines, maybe just websites being slow.
Then on Friday December 16,  utilize free shipping day for any last minute gifts.
Make sure you stick with your budget this holiday season. Homemade gifts are appreciated by many folks. Time being spent with loved ones.  On Tuesday I shared a link to a spreadsheet you can use to price compare etc.  So check that out to stay on budget.