by Kellie Geres, Regarding Nannies Development Team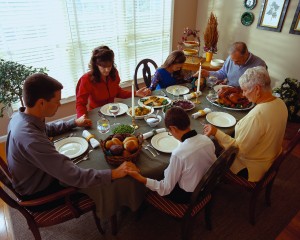 Another holiday season is upon us, and as I am planning my travels away from work this season, I wondered what other nannies are up to?  Not all nannies are fortunate to be able to travel and be with family and friends during the holiday season.  As nannies, we are giving individuals, so I asked around … How do nannies gather during the holidays?
I've heard of nannies opening their homes to 'orphan' nannies for an open door holiday meal.  Bring a dish to share and enjoy a day away from the stresses of work.
ADCAN ~ Association of DC Area Nannies hosts a holiday party each year, the first weekend in December for their nanny members. This is an opportunity to get dressed up, enjoy a great meal at a restaurant and spread a little cheer with a gift swap.  In years past, donations have also been accepted for local shelters and children charity.
Karen Yatsko shares one of her favorite nanny holiday adventures … One of my most memorable Thanksgiving's involved fellow nanny and best friend Kellie Geres.  I flew down to D.C. and we literally "drove over the river and through the woods" to my grandmother's house just outside of Pittsburgh, PA in Follansbee, WV.  My grandmother was by herself and we showed up with a wonderful turkey and trimmings so no one had to do any work.  Wine finished out the holiday meal along with naps!  I took Kellie sightseeing – the Homer Laughlin China Company which makes Fiesta Ware is up the Ohio River from my grandmothers in Newell, WV.  Next we visited the Mountaineer Casino in Chester, WV on the way back to grandmother's house.  (Know wolf in sheep's clothing but the casino did take our money!)  The following day, I took Kellie to visit the world famous "Dean Martin" Kroger in Steubenville, OH.  Really!  We have pictures!!    Shopping at the Fort Stueben Mall and back home to stock up Grandma's pantry before we left.  On the drive back to D.C., Kellie kindly steered the car in the direction of Morgantown, WV where I was born.  I proudly found a West Virginia Mountaineer sweatshirt at the local Morgantown, WV Cracker Barrel.  As we pulled into the never-ending lanes of the lovely holiday traffic in suburbia DC, racing to get to the airport to catch my flight home, we realized what a fun trip it was!  My grandmother was so appreciative of Kellie coming to visit and spend the holiday with my family!  Kellie is truly an official member of my family having visited the Dean Martin Kroger!
Kristin Hale of A Nanny for U in Seattle, WA shares…As an agency we host monthly nanny events to get our nannies connected with other nannies in the area.  One of those events is our annual holiday party where we gather our nannies and their significant others to celebrate the season and to thank them for all the great work they do for our families.  It is our biggest event of the year in regards to attendance and I know our nannies and staff look forward to it each year!
Judi Merlin, A Friend of the Family, Atlanta, GA, has tried many different kinds of holiday gatherings, over the years.  She shares two that come to mind.  We had a Holiday Arts and Crafts Fair where any caregiver could bring their crafts to sell or even product that they sell like toys, books or makeup. This was fun and also a way for the caregivers to make some additional money for the holidays.
Another holiday party involved inviting all caregivers to bring a dish from their native country or culture for others to taste. We have always has caregivers from different countries, so it was interesting so see them so proud to share food from their country of origin, so familiar to them and new to many others. Remember this was back in the days before we could get cuisines from exotic places
Janice St. Clair, founder Boston Area Nanny Support Group (BANSG) tried holding events in December, but everyone's time was always in such demand that few would come.   So I began holding the BANSG holiday event in mid-January, and billed it at a "Post-Holiday Party and Yankee Swap" to transition everyone out of the whirl of holiday events with one last party.   The Yankee Swap allows attendees to re-gift an unwanted item or end-holiday-sale bargain in exchange for something they'd like.   It's been a well-attended and well-appreciated tradition.
Another Boston group, Boston Area Nannies (no longer active) hosted a holiday brunch at one of the local hotels. We had a private room, but ate off of the buffet and everyone paid their own way. We had a yankee swap and then the group went Christmas shopping afterwards in the city. It was a great way to bring nannies together. Via Michelle LaRowe
Andrea Flagg, founder of the former nanny group Nanny Alliance of NY & NJ
A few nannies met to see a performance of the Nutcracker -my charge at the time was dancing the part of a "little angel"- so it was extra special for me. After we went to Olive Garden for a Meal. Everyone who came brought food items that we donated to a local food pantry.
We also exchanged holiday ornaments. I received an ornament with one of my favorite child character's Curious George. My charge was visisting me home one day during the holidays and loved it so of course I gave it to her to hang on her own little special tree that we put up in her bedroom. This was over 5 years ago- and when I visit her for the holidays- it is always on her little tree.
The next year:
…. we all met to go ice skating and have a meal.  Everyone who attended donated a warm piece of outer clothing- such as a hat, gloves, scarf that we delivered to a homeless shelter.
The following year….
Nannies  + More… of Atlanta- who was a big supporter of Nanny Alliance of NY & NJ- asked if they could help by sponsoring a holiday meal gathering.
10 nannies met at The Macaroni Grill. Gerri Wilbanks of Nannies + More…. lead a casual discussion on "not selling yourself short" as our New Year's Resolution. I made up holiday cookie treat bags-for all the nannies to take home.  It was a lovely start to the holidays.
In 2008…
a nanny from my nanny support group offered to host a holiday party at her nanny/families home.
The home was decorated from top to bottom, the living room had a cozy fire going and a beautiful Christmas tree.  We all brought a white elephant gift to exchange.  The funniest was a "Chili Gift Box"- full of chili mixes- hot sauces, along with toilet paper and air freshener!
We also played a "Guess Who Celebrity" game.  We taped the name of a celebrity on someone's back and that person had to ask everyone else questions in order to figure out who the name on their back was. It was a total hoot- that had us all laughing close to tears.
If that all was not enough- the hostess- made a lovely meal. This evening stands out as the absolute best holiday party I've ever attended.
So what ways have you celebrated the holidays with nannies in your area?  Share your story so others can be inspired!