My Favorite Things – Nursery Tour
By: Greta Schraer
Isaac is 3 months old now, and we finally finished the nursery!  I started early because I knew that the end of my pregnancy would be in the heat of the summer, and not sure how I would be feeling. So, it has been mostly finished since the spring, but we were waiting to find out if the baby was a girl or boy, before it was completed. In Sept, we had our sweet boy. After a month or so of taking it easy, I was ready to add  some finishing touches. I put a lot of thought into what would go in the nursery. As a nanny, I knew what I wanted in a functional (and cute) room. Below is a picture of  the room before (I love that we were able to use one of the triplet's cribs).
GOALS
Here are some of things I wanted to accomplish in the room: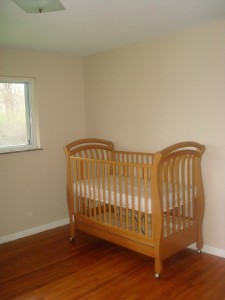 1. The room should work for both genders.
2. The room should be peaceful and yet playful.
3. The "form follows function" …meaning the room should work first, look good second.
4. Don't waste money on crib sets with pieces I won't even use.
5. Bring in items from my husband's and my childhoods.
6. Furniture should grow with the kid (except the crib).
7. Use what we have and get great deals.
8. Nothing too matchy-matchy or overwhelming themes
INSPIRATION
For the first four months of my pregnancy, I was sick and exhausted. I spent a lot of time on the couch and passed the time searching for nursery inspiration. Here are a few of the pictures that I found…
This room was bright and cheery. I love the bright color and simplicity of it. Also, these curtains were bookmarked for a seamstress friend to re-create for me.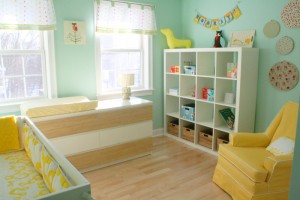 I loved the idea of using a dresser for a changing table. It will outlast the diaper stage! Also liked the wall color with the white furniture and wood floors.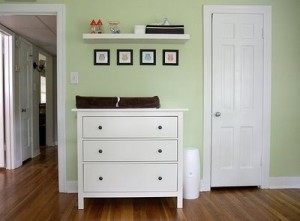 I took note from my favorite blog, of the white frames on the mint wall. What an easy way to make art!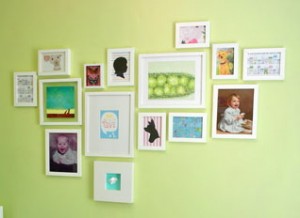 We first began with the walls. It was "Lemon Mint" by Sherwin Williams. My husband and his dad had the room painted in a day, and I was in love with the color. My dad offered to buy us something to help our nursery, so we opted for this dresser from Ikea. We knew that it would be a great platform for a changing table, and last in our family for a long time.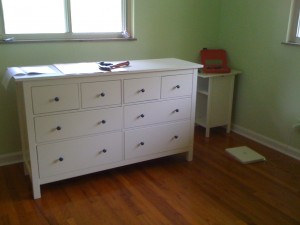 Next I began the search for linens and curtains. I knew that I had to find something gender nuetral. I decided that I would start with lime green and white when I found these two fabrics at babybedding.com.
I figured that I could add some accent colors and fabrics to the room after Baby Schraer was here. If the baby was a boy I planned to add blues, and this fun Modern Zoo print.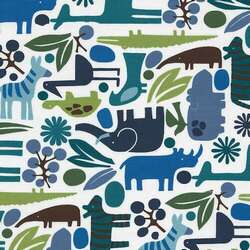 If the baby was a girl I would add some red and pink, and this Starling print.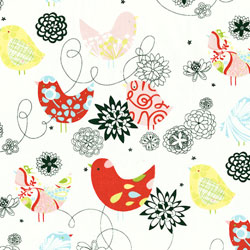 These fabrics were also found on babybedding.com. The website is awesome because it let's you design your nursery they way you want. You do not have to buy a package but can design and purchase individual items that work for you. The prices are pretty reasonable. Since we did not have to buy much for the nursery, we chose to spend our money on these items, rather than register for them.  I planned to buy a few crib sheets, changing pad covers, and fabric for curtains. I ordered lime and white items ahead of time, then ordered a few things 2 weeks after Isaac was born. Modern Zoo it was!
THE REVEAL
So after 9 months of planning and waiting, Isaac is enjoying his new nursery!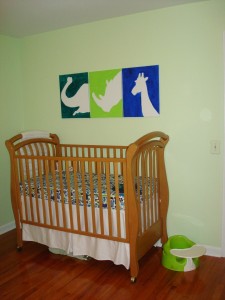 Here is some art I DIY-ed to bring more color into the nursery. (I will be getting to a second coat in the near future).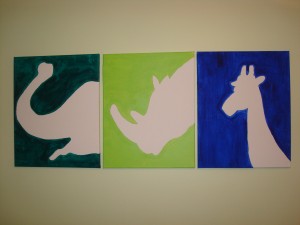 I was so excited to actually use this Modern Zoo fabric, after carrying around the swatch in my purse for months (along with the "girl swatch").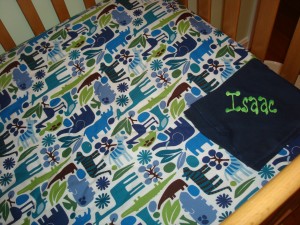 You can see the curtains created from the inspiration picture. The first fabric choices are on the curtains and changing table cover. Under those curtains are black out shades. Afternoon sun comes right in his room, so we love the shades! The glider is great for rocking, singing, and reading. You can't see in this picture, but next to the chair sits a night stand with an ipod and dock with clock, and a prayer book that we read to Isaac most nights.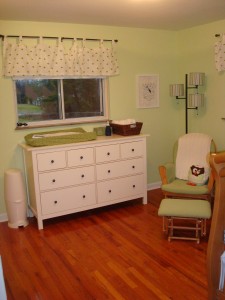 This onesie was one of two that were taken to all my showers for people to guess what I was having. There was also a girl onesie with ballet shoes. Great memory, and now great wall decor.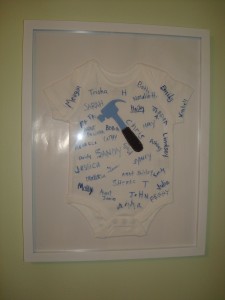 We re-painted a bookshelf that I have had for over 10 years; it is solid. It was grey, then black, and now white. Doug painted it for me and it looks as good as new! I added some baskets for toy storage, and displayed books and toys.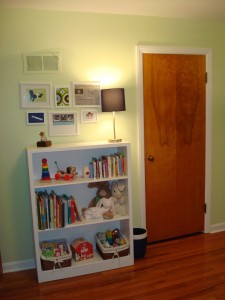 Cheap frames hold shower cards, a fabric swatch, Isaac's announcement, and some newspaper clippings from the day Isaac was born. The art will likely change as the months go on. On the top of the bookshelf sits an Angel Music Box that belonged to my Nanny (grandmother) and a lamp, purchased from target. Isaac loves this light and looks for it each time I change his diaper; light makes him smile.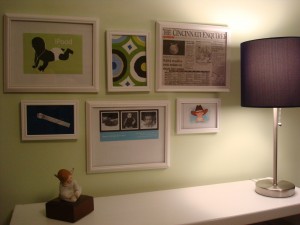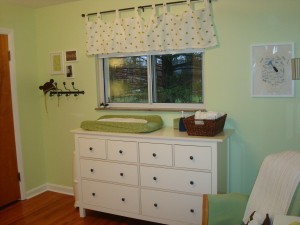 In the corner we hung this coat rack I got from Pier One ages ago. It has been in the basement and I am so glad it has a purpose again. It is hard to tell but the bulbs are navy with lime polka dots. I love to hang Isaac's outfit for the next day on it. Framed above are another card, Isaac's wristband from the hospital and cut out of a gift bag that I "loved".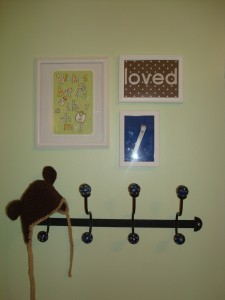 Next to the changing pad, I set a basket of diaper supplies. I love having the things we use on a daily basis at arm's reach, you might remember my organization post from last month. Since then, I've added a navy blue pump bottle with sanitizer imside. I will continue adding items for function and of color when I can.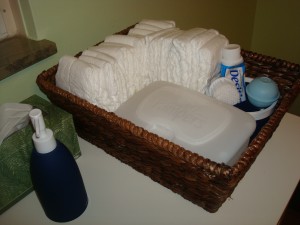 SUMMARY
So, here is what I did:
Re-used: Crib, glider, bookshelf, floor lamp, baskets
Purchased: Crib sheets, frames, table lamp,
Hand-made: Curtains, afghans, owl pillow, artwork
Childhood: Bunnies, dog pull toy, angel music box
Gifts:  Dresser, changing pad, diaper genie, books, toys,
Still to come: Ceiling fan, rug, mobile
I hope you enjoyed visiting Isaac's room. We sure love it, and all the moments we have been spending in it.