by Alice Shaffer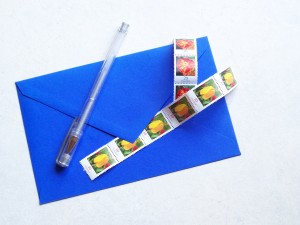 We are fast approaching the "annual card" sending season for the holidays.  I have already personally bought two sets of cards for a total of 56 cards.  Now I am thinking about how I need to gather all the addresses for everyone I want to send a card out to this year.  I have in the past made a "spreadsheet" on google documents and sent the link to it out to people that I want their contact info for. I like this because I print it out and take it with me to do my cards and I can easily check off who I sent cards to.
As I look at my list of names which is easily over 100 plus with all of my family, friends, networking and nanny connections I have to decide how to handle sending cards out.  Easily I could keep the post office in business with my list. Last year I did something a bit different.  I had sent out several holiday cards but then to those who more acquaintances and casual friends etc I sent out Valentine's Day cards to. I got so many compliments on how awesome it was to receive a card in February when the weather is often yucky and a nice handwritten note received is often a great pick me up.   You could send out Happy 2012 cards instead of holiday cards.  One thing I noticed was that folks knew they got a card from me because the amount of mail in February is drastically different then at the holidays.
I ran across our NannyFusion member Donna Shannon's The Personal Touch Career Services blog post called Thinking about Holiday Cards . This is a must read! She gives excellent thoughts to those to include on your card list from the business perspective to the job seeker side to just a personal networking side.
I got two handwritten cards in the mail this week among my bills and magazines. I was so excited to read them! I have come to realize that "we as a society" have started giving up on the art of the handwritten note.  I have been working on sending more handwritten cards throughout the year for "just because" reasons.  The holidays are a great way to reach out and get back in touch with someone.
Earlier this year I made a postcard via Vistaprint and ordered a 100 postcards for the cost of shipping.   I keep these with me and have a bunch of them already stamped to drop in the mail at any time.   I use these from anything from wishing someone a happy birthday, congratulations on a new job to just saying hello.   You can get the link for the free postcards here and with each purchase through this link at Vistaprint you are helping to support Regarding Nannies.
While you are at Vistaprint you can also get return address labels done for free -140 of them. These are awesome because you can use them as an envelope seal with a special message and not for your address, a to/from gift tag from your charges or you, book/toy labels or whatever else you can think of.
There are various shipping options from 7 days to 21 days and costs so you will want to make sure to order sooner rather then later for your holiday cards.
Holiday Card List To Do List
make your card list
Put together a  form link to getting addresses (this is actually my personal link-so if you want a card fill it out)
gather the addresses via your personal address book or creating a google doc spreadsheet to gather the address
purchase your stamps
order your address labels
order your postcards if you choose to send postcards instead of cards.
practice finger exercises so your hands don't cramp during writing 🙂
The best thing about handwritten cards is that it almost always brings a smile to the person opening the card.   Do you have any more tips on sending cards for the Holidays?  Please share!