There are so many easy, fun and colorful crafts you can do with the children in your life for Thanksgiving. If you do traditional things like napkin rings, and place cards for you table, they can be wonderful memories that you can use and treasure for many years to come.
There are lots of ways to make turkeys and the great thing about making turkeys is that they don't have to be perfect to be adorable.
Today I am going to share with you some turkey napkin rings that I made with my now 18 year old when he was about 4.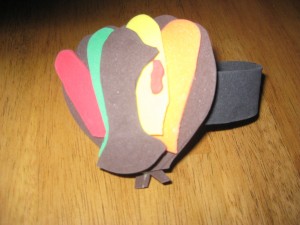 For our turkey napkin rings, we used fun foam, but you could also use felt, or even construction paper.
I cut a strip of black fun foam about 7" long and 1.5" wide.
I made a base for the feathers to be glued on to and then we cut our feathers out of different colors of fun foam. I didn't use a pattern, I simply drew loosely around each of his fingers for the feathers. I cut out a turkey shaped head and a gobbler and he glued it on.
You could add more details like googly eyes or other decorations but I love the simplicity of  this because it was easy for 4 year old hands to do, and when I come across them in my drawer, at this time of year, it brings back a happy memory of time spent with someone I love.
If you do this with the children in your life, we would love to see pictures!