by Glenda Propst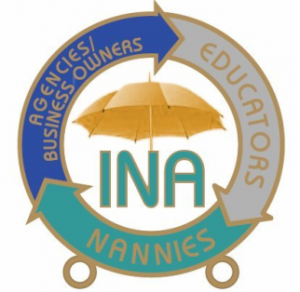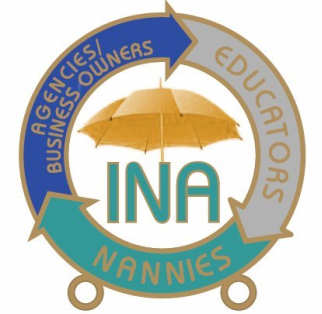 If you plan to attend the 2012 INA Conference in Las Vegas, Nevada, May 3-6, and you have been in the nanny industry for 5 years or more, we encourage you to apply for your INA Service Award Pin.
Individuals who have been employed as a nanny, nanny educator or business owner (referral agency or industry service provider) for 5 or more years and are currently an INA member in good standing may apply for the INA Service Award Pin.
The Harriette Grant Service Award Pin is presented to nannies and specialty nannies.  This award pin, named in honor of Harriette Grant, reflects Harriette's dedication to the nanny profession.  Ms. Grant was a founding member of INA, a founding member of the Association of DC Area Nannies (ADCAN) and was selected as INA's very first Nanny of the Year in 1990.  Ms. Grant later went on to be a co-founder of the National Association of Nannies (NAN).
The INA Service Award Pin is presented to nanny educators, referral agency owners (or their staff), and business owners (or their staff) who serve the in-home child care industry.
The Service Award Pin program originated within the National Association of Nannies in 1995. Thanks to the dedication and generosity of past NAN members, the Service Award Pin concept will continue on within INA and will share the same goal of recognizing those within the in-home child care industry for their hard work, dedication and commitment to professional excellence.
Each year at the INA Annual Conference, Service Award Pins are presented during the INA Service Award Pin Breakfast. Recepients must be present at the Annual Conference to receive their award pins.
The 2012 INA Service Award Pin application deadline is February 1, 2012.
I thought that instead of telling you why YOU should apply for your pin this year, I would ask a few past pin recipients what their pin means to them.
Here are their responses.
Receiving my 20 year pin for me was a way to show my pride in what I do in this industry, as well as an accomplishment few see in any profession.  20 years is a milestone for any one in any job, so for me to have a pin that says to others I am a dedicated professional, with 20 years of committed service to children and families, is a highlight of my career. Kellie Geres
Owner Nanny Island
To be acknowledged for 20 years of service as a nanny by an organization that promotes and supports all aspects of our industry was a huge honor. I love my pin! I'm excited to see the next group of recipients at the INA Conference 2012 in Las Vegas!
Becky Kavanagh
INA Co-President
The PIN was a wonderful idea.  I think the actual PIN is professional looking and I wear it proudly when I interview nannies, clients and attend networking meetings!  The pin graphic makes a great addition to my website.  I believe it displays my dedication to the in-home childcare industry.
Debra M. Brown, President
www.nannieswhocare.com
As a 10 year recipient of the Service Award Pin I am so grateful to have this beautiful token of my years of service in an industry that I love. Since I have been with the same family for most of those 10 years, the pin also evokes a sense of pride in my commitment to the children that I am helping to raise. I'm very honored.
Christy Ochs
INA NOTY 2007
My 25 year pin is perched on a shelf across from my desk and the logo is proudly displayed on my website.  I look forward to earning my "30 years serving the industry" pin in 2013!
Pat Cascio
Morning Side Nannies
I loved receiving my pin and getting to stand up there with so many in our industry that I admire so much, and who have given so much to improve the professionalism of our field.  It also made me realize how far I had come from the scared 19 year old who was making the leap from babysitter to nanny to be standing there 25 years later, being recognized for my accomplishments as a nanny and educator, and that I still love that I get to work with parents and children.  I am truly blessed.
Tonya Sakowicz
Baby Go Green
In a world where our work is often trivialized, marginalized and misunderstood, being recognized for my commitment to professional excellence and years of service in our industry means my daily dedication hasn't gone unnoticed.
Michelle LaRowe Conover
2004 INA Nanny of the Year and Author of the Nanny to the Rescue! Parenting series.

I am so happy that I received my pin. as a professional Nanny this means the world to me. Harriett Grant was the Founder of Nan and a founding board member of INA. It is such an honor to have this pin as a reminder of how much Harriett did for us to make us professional nannies that we are today. I know that when I wear this pin I feel her presence with me. I am so proud to have my award pin. If you haven't done so yet please do. You will be glad you did. If you didn't know Harriett she was a loving and caring person. A plus to the nanny community I am so blessed to have known her as a colleague and a fellow Nanny.
So what are you waiting for?  Get those applications in today!
Anne Marie Stanley
INA's very first Service Award Pin Applicant and Professional Nanny for 20+ years.
and finally, from Karen Yatsko
Professional Nanny 25 years:
Three reasons you should apply for your Nanny Service Pin Award!
1.Pride In Yourself.  Shout it from the rooftops, post it on facebook, or share a blog ….. you have been a nanny how long???  I am so proud that I qualified for this Award.  It takes years of experience in the industry, years that you worked hard.  Why not reward yourself for those "hard-earned", "in-the-trenches" years of work?
2. Recognition From Your Peers. It was very rewarding to me personally, to be given my pin at the INA Conference.  An organization who is a leader within the In-Home Childcare profession proudly supports this award.  Thanks to Harriet Grant forging the way for other nannies.  Thanks to Judith Abranovich who originally came up with this idea in the National Association of Nannies and thank you to the former NAN Members who funded this Service Pin Award in Harriette's honor. Receiving this pin gave me validation and recognition from my highly regarded peers!
3.The pin was something concrete and tangible that I took home with me. A personal remembrance that I can hold to remind me of my accomplishments.  A pin on my suit or in my jewelry box.  A concrete memento that I take pride in!  In my case, I was able to have my mother, sister, niece, best friend, old friends, and new friends – be there with me when I received my pin.  A reminder of a very special moment in my "nanny" life!
More Details:
Applicants Must:
o    Be a current INA member to be eligible for an INA Service Award Pin.
o    Must attend the 2012 Annual Conference to receive your INA Service Award Pin.
o    If working in the United States, must be able to accept work legally.
o    Must submit an official application, a one page resume outling complete work history (for nannies), a one page educational and/of professional background history (for educators/business owners or staff) and a bio.
o    Must submit a $10 application processing fee.
Click here for the 2012 INA Service Award Pin Application
If you have any questions: Please email inaserviceawardpin(at)gmail(dot)com