Anne Marie is one of our nannycrafters here at Regarding Nannies.
I saw this cute project on her facebook page and asked her if she would be willing to share it with us.
Ten minutes later, she had it typed up and in my  mailbox. Thanks for sharing your creativity with us today Ann Marie!
Introduction by Glenda Propst : Regarding Nannies Development Team Member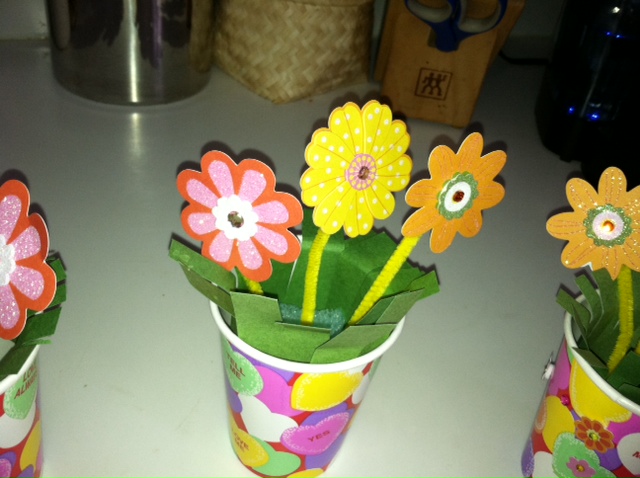 Easy Spring Flowers

I am Anne-Marie Stanley. I have been working with children in some form for over 31 years. I love being a Nanny and I love doing projects. Art Projects are so much fun to do with children. Everything you need for these Spring flowers can be bought at the dollar store for about $10.00.  The parents I work with refer to me  as the project Nanny.
What you will need:
A paper cup.
Styrofoam
3D flower stickers (dollar store)
Pipe cleaners
Easter grass or green construction paper.

What to do:
Cut styrofoam into 2 inch pieces.
Poke the pipe cleaner through the styrofoam. Cut off extra pipe cleaner and make sure sharp ends are not exposed.
Have the kids place a flower sticker on each pipe cleaner. Turn over and do the same on the other side. Place flowers with the foam in the paper cup. If the children are old enough to use scissors let them cut the green paper length wise to make grass. Fit  so it is snug to the cup. Now staple the grass it will fit perfectly. Have children use more stickers to decorate the cup. Presto you have a flower pot.
Happy Spring