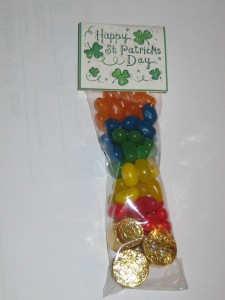 If you are looking for a fun St. Patricks Day project there are several floating around on different blogs and pinterest.
I found some varations of this pot of gold idea and since I just made 200 Pretzel Bag favors for some parties recently, I have a few leftover pretzel bags I can show you a simple project. You can be very creative with what you fill your pretzel bag with. I used Jelly Bellies because we were at Cracker Barrel for dinner and that was what they had. You could use M&Ms, Skittles, or any other colorful candy of your choice.
You will also need a couple of Rolo's but if you don't have any, you could probably use any kind of round candy wrapped in gold foil.
Separate your candy into colors.
Open your pretzel bag and put your gold candy in first.
Then layer the colors in whatever order you want to put them. Then you can make a topper for it, fold it over and tape or staple it, depending on the age you are working with. You could use Scrapbook paper or I have created some toppers that you can download and print out on cardstock.
St.  Patricks Pot of God Toppers
If you are going to do this with the children in your life this is a great sorting activity for them and it also gives you the chance to teach them about colors.